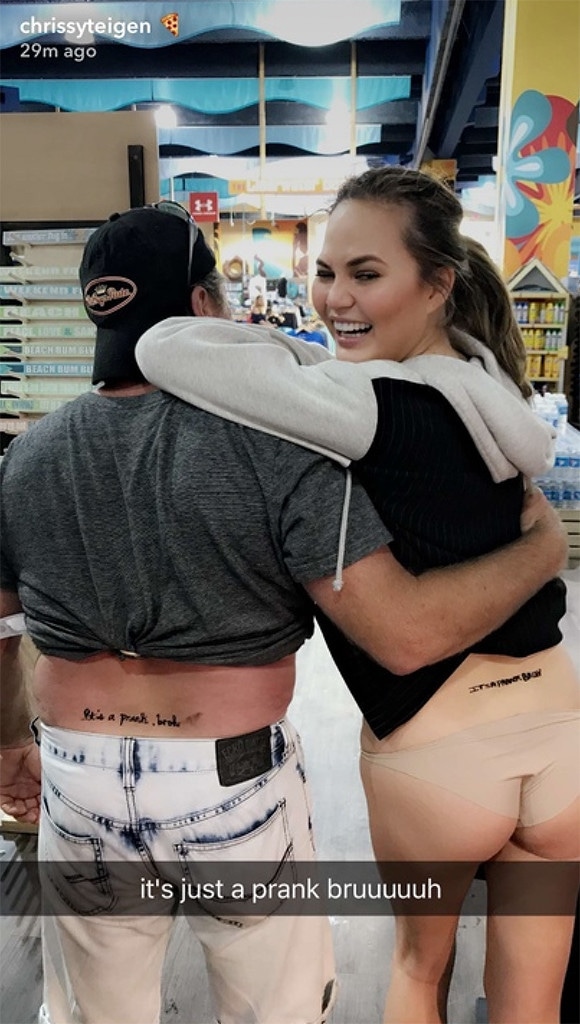 Snapchat
It's payback time. 
Chrissy Teigen took to Snapchat to reveal just what happens when John Legend gets a little too close for comfort with a fan. (Spoiler alert: It's so hilarious!) As it turns out, the supermodel has joined her R&B star hubby on tour and during last night's concert in Miami, Legend treated one unsuspecting attendee to a dance onstage. 
Teigen's response? Recruit a random man and get matching ink! Well, temporary henna tattoos, that is. 
"I'm Chrissy Teigen," she tells the camera while holding baby Luna. "And you guys get to pick your ultimate henna on my lower back."
Chrissy is then shown walking hand-in-hand with a man named Eddie, as the person taking the video explains what led to the always outspoken celeb's latest antics.
"John got to dance with a woman at his concert so Chrissy gets to take on man and hold hands with him," she shares, before teasing, "John, don't be jealous."
The pair then head off to a local tattoo shop, and things taken a turn for the slightly scandalous. 
Teigen bares her booty in a few snapshots documenting the tattoo process, ultimately showcasing the finished product next to her newfound friend. The tramp stamp reads, "It's a prank, bruh" in dark black ink.
Chrissy's smile says it all: She's proud of her new ink!