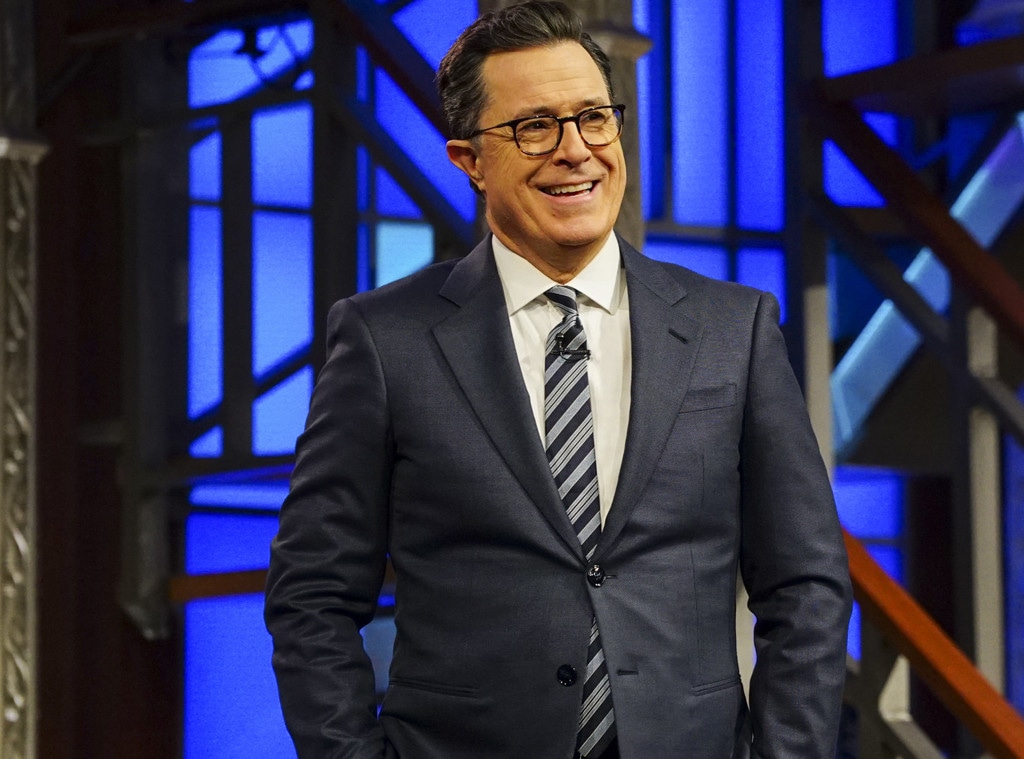 CBS
When The Late Show With Stephen Colbert premiered in 2015, it wasn't easy to watch Stephen Colbert not be "Stephen Colbert," the blissfully oblivious fauxservative host whose real politics were hiding in plain view but remained cleverly cloaked in the character's arrogant bluster.
The man himself was still watchable, but it was one less voice going above and beyond to stick it to the media, politicians and whoever or whatever needed a dose of comeuppance. It seemed that the passing of the torch at The Daily Show and the end of The Colbert Report couldn't have come at a worse time for those who still wanted to consume their political content with a heaping side of mockery.
There were some signs of life in the Colbert universe: His interview with then Vice President Joe Biden, several months after the death of Joe's son Beau Biden. Turning the crowded presidential primary race into the "Hungry for Power Games," with Colbert as Caesar Flickman. High kicks with band leader Jon Batiste.
But it wasn't the same. And nothing was more indicative of how much times had changed than Donald Trump's visit to the Late Show on Sept. 22, 2015.
Trump of course popped up frequently in Colbert's monologues, as he did in every other late night host's monologues. Yet when he was there in person...
Nothing happened. The sit-down was a toothless non-event, indistinguishable from every other non-hard-news appearance the candidate had been making. At least Colbert had the foresight not to play with Trump's hair, though at the time the gag might have worked.
Suffice it to say, Report fans who wanted to see fireworks were extremely disappointed. And while—as you may have recently been reminded—the Late Show ratings enjoyed a Trump bump, so continued afterward the troubling lack of interest in what Colbert was up to, as evidenced by numbers that relegated him to second and sometimes third, behind Jimmy Kimmel Live, in the late-night ratings game.
But perhaps his acolytes weren't the only ones who saw that Trump interview as a missed opportunity. It didn't happen overnight, but once it became clear that the political neophyte was going to be the Republican nominee for president, Colbert (and his writers) started to sing a more aggressive tune.
And why not? No one was watching anyway.
CBS did, of course, want to change that. In April 2016, The Late Show got a new showrunner, CBS This Morning executive producer Chris Licht, whose primary purpose (aside from reviving the show, no pressure) was to take over literally running the show so that Colbert could just focus on being himself (which included ditching his former alter ego's wire rim glasses for the sort of dark frames Colbert had always been seen wearing in real life anyway).
"Anything that doesn't involve him thinking creatively and enjoying his performance—anything that gets in the way of that, I take," Licht told The New York Times. 
Network CEO Les Moonves got a lot of grief for saying in February 2016 that Trump "may not be good for America, but he's damn good for CBS," but he certainly wasn't the only head honcho thrilled that more people were interested in news again, whatever time of day or via whatever platform they digest it from.
So when Colbert's numbers started to edge upward, an effect that was widely attributed to his increasingly scathing jabs at Trump, CBS certainly didn't complain.
Election coverage was a start. Colbert went live during the Democratic and Republican National Conventions, and took his "Hungry for Power Games" character to the RNC—where, in true Colbert Report fashion, he managed to sneak onto the stage and was ultimately thrown out by security—but not before he managed to tell the small crowd milling about, "Look, I know I'm not supposed to be up here—but to be honest, neither is Donald Trump."
But even those numbers, an average of 2.5 million viewers a night during the live shows, were still way behind Fallon's. That July, Jon Stewart made another appearance on the Late Show—and he was joined by "Stephen Colbert," the two portrayed as having been living remotely in the woods and therefore unaware of what was unfolding in the rest of America. "The Wørd" even reappeared, albeit as "The Werd."
It seemed as though CBS, who had originally wanted Colbert to leave the past behind, had finally remembered why they wanted to hire the man in the first place.
And then Trump was elected president of the United States.
On election night, Colbert presided over a sparsely viewed live special on Showtime—aka profanity allowed—that, judging by his visible disbelief, was not going the way he (or guests Jeff Goldblum and later the The Circus' Mark Halperin and John Heilemann) had expected.
"Uh, what the f--k is happening?" Colbert asked Halperin and Heilemann after they sardonically toasted "to democracy" over Old Fashioneds (serving guests cocktails or taking the occasional tipple himself has become a regular occurrence on the Late Show).
Many books have and will be written addressing the answer to Colbert's question. But the takeaway as far as it regards late night TV is that the host's Trump commentary has been rooted in that question—posed for a laugh but also deadly serious—ever since.
Aside from a few breaks for vacation, Colbert hit the Trump presidency running and hasn't let up—and it's like nothing we've ever seen from the 52-year-old entertainer.
Sure, we've watched him push various envelopes for 20 years now—as his charming reunion with Stewart and former Daily Show cohorts Samantha Bee, John Oliver, Rob Corddry and Ed Helms the other night reminded us—but he was always, always playing a dim character whose monomaniacal nature just so happened to highlight a real issue.
But we had never really seen Colbert himself really stick it to anyone in that way. Even his now legendary appearance in-character-but-not at the 2006 White House Correspondents' Dinner was an act, albeit one meant to provoke.
While he's still going through the usual late-night stuff too, interviewing guests and making proclamations while wearing a big hat, etc., Colbert has been using his monologue to share his unvarnished, balls-to-the-wall opinions of President Trump, making for the most stinging commentary you'll find on any broadcast network, let alone in late night. He has been bold, crude and unrelenting.
So now, after watching him on TV for 20 years, we finally know what really grinds Stephen Colbert's gears—and it's almost everything going on in the world these days. He may have originally been intended as a more cuddly successor to David Letterman, but it turns out that Stephen's got a chip on his shoulder, too, and he's putting it to good use.
Despite fears (not his, but ours) that he might not be able to sustain this heavy-weight level of vigorous jabs and upper cuts for whatever reason—network concerns, viewer drop-off, actual loss of physical stamina—Colbert seems to have a new lease on, if not life, then certainly on hosting.
Those tuning into the Late Show have noticed: With CBS touting it in ads as "the smart choice" in late night (aka, if you want politics, watch us)," Late Show started to overtake The Tonight Show in weekly overall viewers in February, having finally received the Colbert bump it was seeking in the first place. Though still second for the season, 3.16 million to Tonight's 3.19 million as of the week ended May 5, the gap continues to close.
It's this renewed vigor of course that led to Colbert's heated defense of CBS Newsman John Dickerson, whose show Trump had mockingly referred to as "Deface the Nation" during a recent interview. In turning the tables, Colbert referred to Trump as Russian President Vladimir Putin's "c--k holster"—which in the moment barely registered, seemingly just another zinger in a six-month onslaught of nonstop zingers. Not to mention, CBS bleeped it out.
But at the same time, Colbert's joke was decried as homophobic by some critics, #FireColbert made the rounds on Twitter, and enough complaints were phoned in (it takes very few) so that the FCC was compelled to say they were looking into it. (Contrary to many headlines, Colbert is not being "investigated.")
So after it came out yesterday that, in an interview with Time, Trump called Colbert a "no-talent guy" who says "filthy" things and then took full credit (not without some cause) for Colbert's ratings surge, you can imagine the excitement for last night's show.
Colbert didn't disappoint, declaring himself the victor ("Don't you know I've been trying for a year to get you to say my name?!"), and he suggested how Trump could get the best of him once and for all.
"Resign," he said. "I mean, that's it, right?"
But back into battle he'll go next week. The real Stephen Colbert may have won this round, but the war rages on.