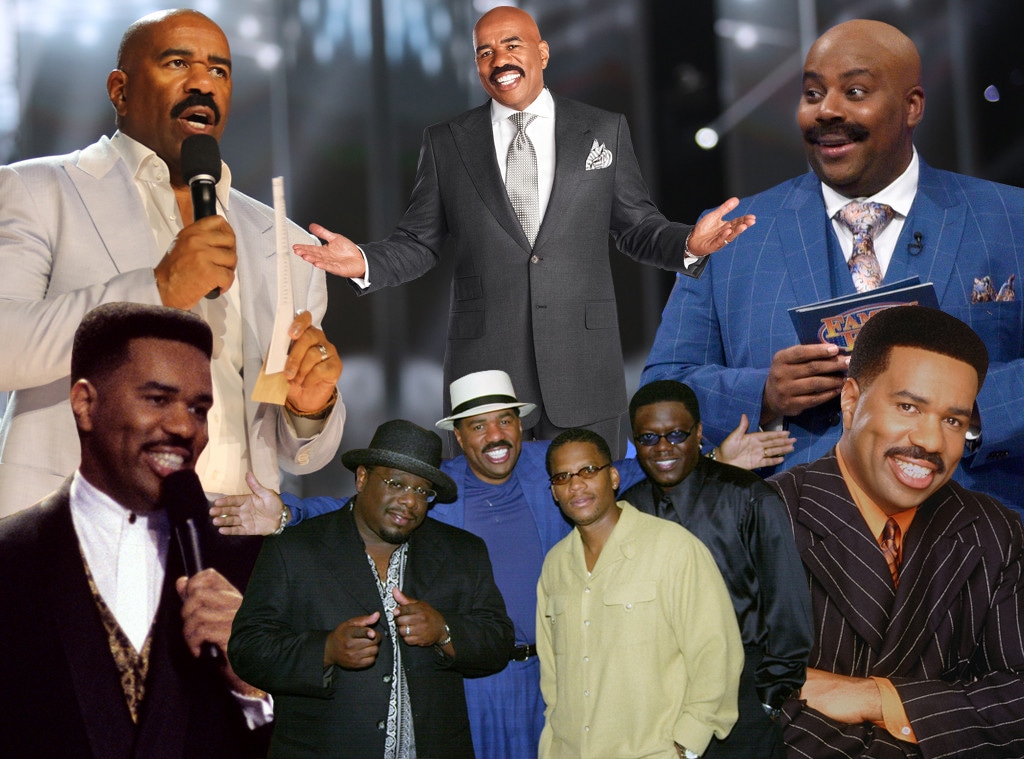 E! Illustration
Steve Harvey has come a long way.
As for whether that's an entirely good thing...perhaps it depends on which member of his staff you ask.
To be sure, the 60-year-old stand-up comic turned self-help author and talk show (and game show and variety show and pageant) host has enjoyed an extraordinary trajectory, his story being a literal rags to riches—or at least living-in-his car to living-in-luxury—tale, and his charisma has everything to do with that. He's become a pop culture touchstone, his facial expressions perfect fodder for memes and Kenan Thompson's impersonation of him on Saturday Night Live only proving just how widespread his reach is.
Various gaffes, namely his flubbing of the Miss Universe winner announcement in 2015, have only made him more of a celebrity—as well as a go-to expert on prime-time flubs.
And Harvey has appeared to remain the same guy throughout, the tell-it-like-it-is routine he burnished as a comedian serving him well on his eponymous syndicated talk show and as a go-to master of ceremonies (only with fewer F-bombs now). He has also always seemed to remember his humble beginnings. 
But no matter how many blessings a man openly counts, with great success can come... well, let's just say, a person might develop some quirks along the way.
"I'm living proof you can reinvent yourself," Harvey told Parade in 2014 upon the release of his book Act Like a Success, Think Like a Success (which joined Act Like a Lady, Think Like a Man and Straight Talk, No Chaser: How to Find and Keep a Man in the Harvey canon).
The youngest of five ("I was a surprise"), he was born in West Virginia but his family moved to Cleveland when he was 4.
"My parents were very loving," Harvey said. "They had no money, but my mother gave me faith and my father taught me a work ethic." He had a stutter as a child, but he claims a deli counterman's offer of free candy bars if he worked hard at speaking clearly helped him overcome the speech impediment.
He flunked out of Kent State University in his third year, but he did happen to meet fellow classmate Arsenio Hall at the time, and he was inspired by Hall's big showbiz dreams.
Despite his authoritative relationship advice (which also inspired the films Think Like a Man and Think Like a Man Too), Harvey's first two marriages—to Marcia, in 1980 when he was 24, and to Mary in 1996—ended in divorce. He has three children with Marcia, one with Mary and another daughter with Marjorie, his third wife, whom he's been married to since 2007.
In fact, their 10th anniversary is coming up on June 25.
According to Harvey, he first met Marjorie in 1990 when she walked into a comedy club in Memphis while he was doing stand-up, and he supposedly announced, "I don't know who you are but I'm going to marry you." So they went out, she realized he was the one, too...and then he ghosted her.
Julien Hekimian/Getty Images
They reconnected in 2005 once he got his act together.
"Before a man can be of use to a woman…he's got to know who he is, what he does and how much he's going to make," Harvey explained to Essence in 2014.
"Every great man has a woman… I didn't say successful man, I said great man. Yeah, maybe you're successful if you sign a $16 million NBA contract. But greatness is when you're the husband and father you're supposed to be. When everyone surrounding you looks up to you, depends on you, and you come through for them. That's greatness."
He recalled friends telling him a couple years into his marriage, when he was hit with a $20 million tax lien, that he should keep it from his wife, that she would leave him.
"Marjorie stayed," Harvey said. "Everything I have is because of this girl right here."
Last month Harvey's not-so-great days came back to haunt him when second wife Mary Shackelford—who was jailed for contempt of court in 2013 for allegedly violating terms of their divorce agreement—claimed in a rambling video interview that he owed her $50 million and that, because a judge had ruled their divorce was contingent on the division of their community assets and that had never happened, they were still married. (No court documents appear to have been filed to back up her claim.)
She and Harvey had an ugly (the details of which are sealed) custody battle over their son when they divorced in 2005, and Harvey obtained injunctions against her in 2008, 2011 and 2013 for various disparaging comments she'd made publicly and via video.
In 2011 she posted a YouTube video going on about how Harvey cheated on her with Marjorie, left her homeless and broke and was keeping their son away from her. 
"Am I angry? Yes," Vaughn told Dallas-Fort Worth's Fox 4 from jail in 2013. "I missed six years of my son's life and I can't get those years back."
Steve and Marjorie went on The View to deny Mary's claims, with Harvey saying he was mainly concerned about clearing his wife's name.
A Texas judge ultimately ruled that Harvey had not left Mary destitute. It would have been especially bizarre if he had, considering Harvey's family didn't have any money to speak of when he was growing up, and when he first decided to pursue stand-up comedy—at the age of 28, after winning the $50 prize at an amateur night—he lived out of his car while he chased down gigs.
"That was an ugly period, just very painful," he recalled to People about being homeless in the late '80s. "Everybody has a moment when they turn back, when you say to yourself, 'This is too much.' I had it on several occasions."
Harvey finally broke through in the early '90s, becoming host of Showtime at the Apollo in 1993, a gig he stuck with for seven years. He scored one of the first WB sitcoms, The Steve Harvey Show, playing a funk music star turned school principal, in 1996. He then joined co-star Cedric the Entertainer's Kings of Comedy stand-up tour and in 2000 Spike Lee's now-classic concert film The Original Kings of Comedy, also featuring Bernie Mac and D.L. Hughley, cemented the group's legacy.
Also in 2000 he started his syndicated radio program The Steve Harvey Morning Show—which has remained on the air through one contract or another ever since.
Ethan Miller/Getty Images
His sitcom ran till 2002, after which he hosted Steve Harvey's Big Time Challenge until 2005, appeared in films such as Johnson Family Vacation and You Got Served, and in 2010, he became the new host of Family Feud.
Buoyed by the success of his how-to relationship books and the following he'd acquired as an advice guru on his radioshow, his syndicated talk show, Steve Harvey, premiered in 2012 and became one of the few enduring celebrity-hosted shows on the daytime circuit. Meanwhile, he's still hosting Family Feud and has added Celebrity Family Feud, three Miss Universe pageants (two since the gaffe heard round the world, but particularly in the Philippines and Colombia) and the NBC show Little Big Shots, which is currently in its second season.
Is it just us, or is Steve Harvey actually beating Ryan Seacrest in the multimedia ubiquity game?
"I'm running from homelessness," Harvey explained to People. "I can't ever be in that position again. If my show gets canceled, I've got three more. I don't have any free time, but I have 12 jobs."
Tim Hiatt/NBC/NBCU Photo Bank via Getty Images
"It kills me when I hear very successful people say, 'I always knew I would get here,'" he said. "I didn't. I always hoped I would get somewhere, but this is above and beyond. My imagination didn't even go this big."
Being on TV (and on the radio, and working in films, and writing books) for so long will inevitably result in some verbal snafus, and Harvey has had his controversial moments. 
The latest ding comes from a leaked email that he had originally sent to staffers on his talk show, which is relocating from Chicago to Los Angeles, in which he instructed them more or less not to go near them unless he said otherwise. 
"Do not approach me," he wrote. 
"Do not come to my dressing room unless invited. Do not open my dressing room door. IF YOU OPEN MY DOOR, EXPECT TO BE REMOVED. I want all the ambushing to stop now. That includes TV staff."
Harvey continues, "Do not approach me while I'm in the makeup chair unless I ask to speak with you directly. Do not wait in any hallway to speak to me. I hate being ambushed." 
The instructions are not without explanation: "It is for the good of my personal life and enjoyment," he concludes.
Lorenzo Bevilaqua/ABC via Getty Images
Well, cue the "look at this diva" headlines.
But really...can you blame the man for not wanting to be bothered? Judging by his schedule, he's probably asleep in that makeup chair!
Always one to apologize when it's due, such as when he botched the 2015 Miss Universe finale and wanted to personally apologize to the Filipino community, today Harvey stood by what was supposed to be an internal company memo. 
It sounds as though he once had an open-door policy that went awry.
"I could not find a way to walk from the stage to my dressing room, to sit in my makeup chair, to walk from my dressing room to the stage or to just sit and have lunch without somebody just walking in," he told Entertainment Tonight. "I've always had a policy where, you know, you can come and talk to me—so many people are great around here, but some of them just started taking advantage of it.
"Look man, I'm in my makeup chair, they walk in the room. I'm having lunch, they walk in, they don't knock. I'm in the hallway, I'm getting ambushed by people with friends that come to the show and having me sign this and do this. I just said, 'Wait a minute.' And in hindsight, I probably should've handled it a little bit differently."
That being said, Harvey's intent was for his employees to get the memo—literally.
"I don't apologize about the letter, but it's kind of crazy what people who took this thing and ran, man. I appreciate you asking me," he told ET.
Hey, treat the boss right and you just may end up with job security for life.
Harvey said in 2014 that he had no interest in slowing down, and that doesn't seem to have changed one bit. He golfs, but it's not a hobby he's interested in taking up full time.
"I'm not one of those people who's going to be on a yacht sailing the world," he told Parade when asked if he ever considered retiring. "My calling is to help people, to teach people, to share with people, until I die. I can never stop doing that. I can't and I don't want to."