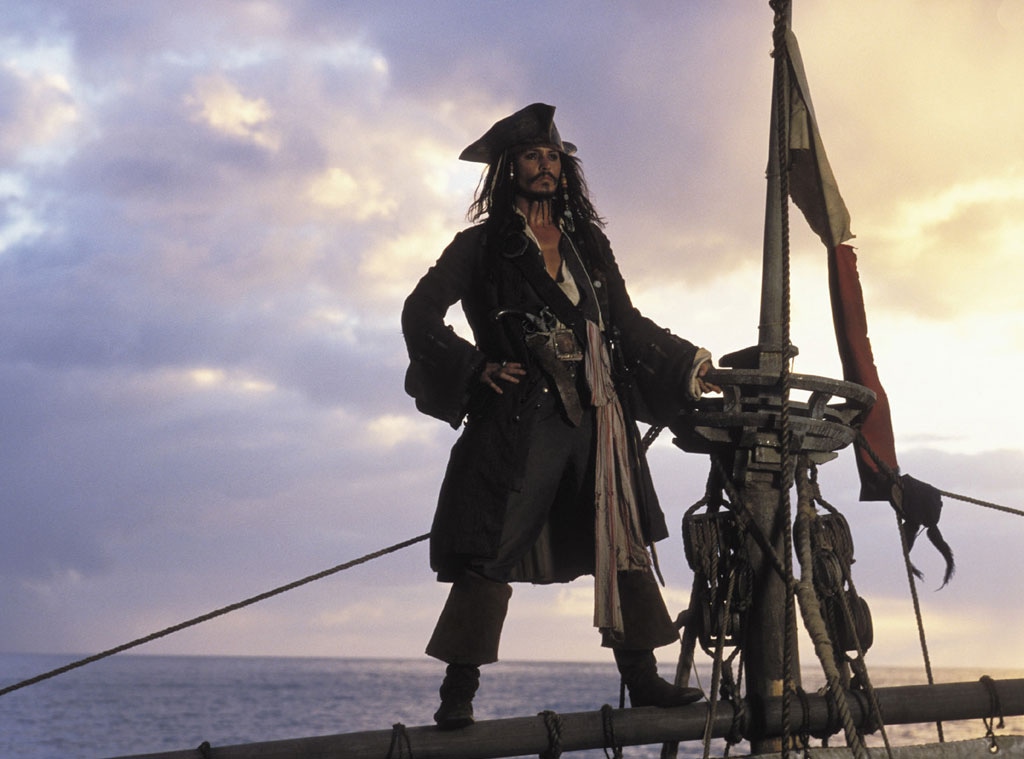 Disney Enterprises
It's no secret that Pirates of the Caribbean is a global phenomenon.
But, when the Walt Disney Studios Motion Pictures movie had its world premiere at Disneyland on June 28, 2003, few could have predicted it would be the success it is today. Pirates is the ninth highest grossing film franchise in history, earning $4,524,358,182 at the global box office after last year's fifth film: Dead Men Tell No Tales. Pirates of the Caribbean: The Curse of the Black Pearl premiered in theaters nationwide 11 days later, on July 9, 2003.
The original film's world premiere shut down the theme park. A red carpet was rolled out on Main Street so Johnny Depp, Keira Knightley and Orlando Bloom could sign autographs and take pictures with fans. Other attendees really got into the spirit, like Danny Bonaduce, who had a sword fight, and Daryl Hannah, who dressed in costume as a pirate (eye patch included).
Other attendees included Travis Barker, Gary Busey, Amanda Bynes, Shannon Elizabeth, Cuba Gooding Jr., Mark-Paul Gosselaar, David Hasselhoff, Teri Hatcher, Michelle Kwan, Jonathan Lipnicki, Shanna Moakler, Rebecca Romijn, Jane Seymour, John Stamos, Raven-Symoné, Lea Thompson, Jon Voight, Kerry Washington and Raquel Welch—and, of course, Mickey Mouse.
Premieres in London and Dublin followed, and Pirates of the Caribbean: The Curse of the Black Pearl went on to earn to earn $654.3 million worldwide. Sequels were inevitable, and Pirates of the Caribbean: Dead Man's Chest (2006), Pirates of the Caribbean: At World's End (2007) and Pirates of the Caribbean: On Stranger Tides (2011) lured talented actors like Sam Claflin, Penélope Cruz, Naomie Harris, Ian McShane, Bill Nighy, Keith Richards and Stellan Skarsgård.
A fifth film, Pirates of the Caribbean: Dead Men Tell No Tales, was announced in 2013. Plagued by production problems, the movie will make its long awaited debut in U.S. theaters on May 26.
Disney has a lot riding on the fifth installment in the series, and it didn't allow Depp's financial and personal problems to interfere with its shot at success. "There were certainly days when our plans were challenged," production chief Sean Bailey told The Hollywood Reporter. "But no one should underestimate Johnny's passion and commitment to this character and franchise."
Depp never gave any interviews to promote the film. Instead, he decided to dress up in character as Jack Sparrow last year to surprise Pirates of the Caribbean riders at Disneyland.
The movie's promotional tour kicked off in May 2017 with the world premiere at Shanghai Disney Resort—marking the first time a Hollywood movie ever premiered in Mainland China. Bloom and Depp were joined by co-stars Javier Bardem, Geoffrey Rush and Brenton Thwaites, as well as by producer Jerry Bruckheimer and directors Joachim Rønning and Espen Sandberg.
It was the first Pirates premiere Bloom had attended in 10 years.
After walking the red carpet and meeting fans, a screening was held at the Walt Disney Grand Theatre at Disneytown. Depp and his colleagues also took photos at Treasure Cove, the first pirate-themed land at a Disney park, inspired by the Pirates of the Caribbean movie franchise.
Premieres followed in Paris (May 14, 2017) and L.A. (May 18, 2017).
To celebrate of the first film's 15th anniversary, compare the 2003 and 2017 world premieres:
(Originally published on Thursday, May 11, 2017, at 7:30 a.m. PDT.)