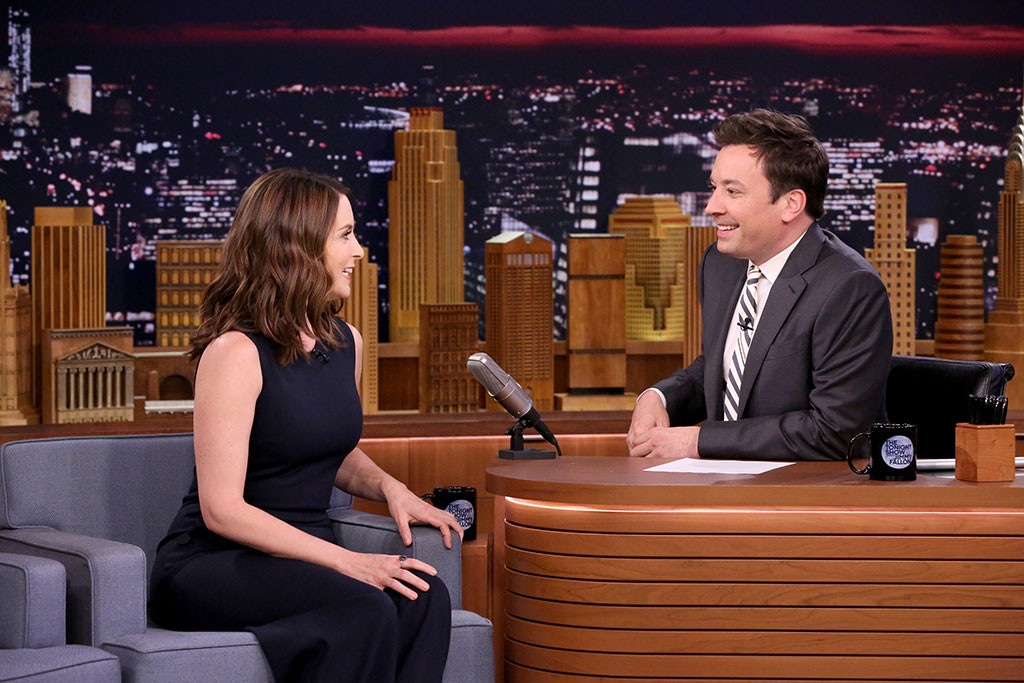 Andrew Lipovsky/NBC
This is going to be so fetch!
When Tina Fey stopped by NBC's The Tonight Show Wednesday, she confirmed that the Mean Girls musical is "moving along" nicely. "I mean, I'll probably come back here like five more times before we actually come to Broadway," she joked with Jimmy Fallon, "but it's a real thing now."
"When it's a new show, you practice it here and then you go out of town—either to Chicago or La Jolla or wherever. We're going to D.C. We're at the National Theatre," Tina said. "You can buy tickets now. Previews start on Halloween. It's so cool. It's so fun because—you can sing—but I've been in stuff that's like movie musicals, whatever, a little bit. The secret with movie musicals is you can secretly suck and be a star. But to do things on stage? Like, these kids are so talented. We have the cast now. We've been rehearsing for about a month. There's a bunch of baby Timberlakes. Everyone can do everything! They just sing so loud and they dance so hard."
Tina added, "Like, my brain is broken!"
"My husband, Jeff Richmond, is writing all the music, and this woman, Nell Benjamin, is writing all the lyrics. It's really exciting," said Tina, who is writing the book. Additionally, Tony Award winner Casey Nicholaw is the musical's choreographer and director. Lorne Michaels and Stuart Thompson are producing the show, which will run in the nation's capital from Oct. 31 to Dec. 3.
The Mean Girls musical is expected to open on Broadway in 2018.
Mocking President Donald Trump's firing of FBI director James Comey, she joked, "The theater is like three blocks from the White House, so you can make a little trip of it. Or if you work there and you get fired, come down and see the show. Twenty percent off if you got fired that day."
Before the interview ended, Jimmy asked for an update on Tina's two kids, Alice Richmond and Penelope Richmond. "They're getting so big. Thank you for asking. Time flies!" the Unbreakable Kimmy Schmidt producer admitted. "Alice, my older one, is 11. I really can't say more than that, because recently she said to me, 'Hey, I was at my friend's house and her older sister showed me a link of you telling a bunch of stories about me as a baby on talk shows.' I was like, 'I don't know what you're talking about...That never happened.' So, I can't talk about her anymore."
Tina's 5-year-old daughter, meanwhile, is "a real honey badger." For example, she said, "She kind of knows she's funny. Like, she knows it's funny to put your finger in the crack of your butt and then chase people with it; I didn't know that until my 20s. She's already got that on lock!"
(E! and NBC are both members of the NBCUniversal family.)