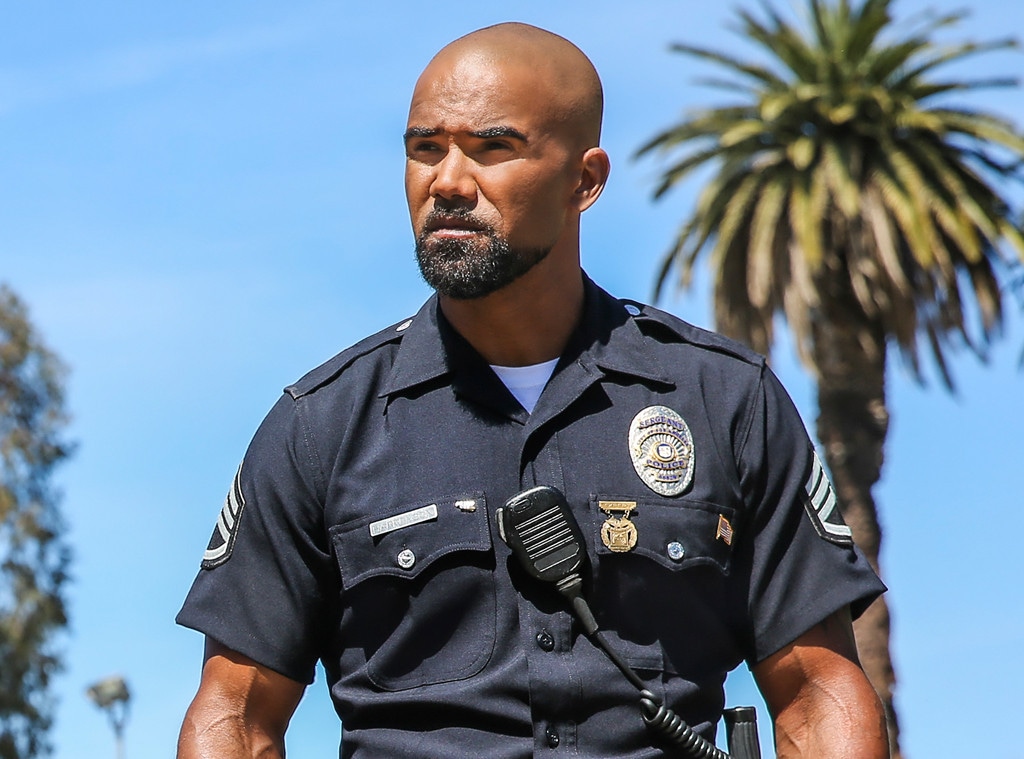 CBS
Start clearing those DVRs now, people, because so many new shows are coming your way.
The 2017 Upfronts are upon us, which means ABC, CBS, Fox, NBC and The CW will all be making their final decisions about which pilots they will be picking up to series for the 2017-18 TV season, aka it's basically the small screen's version of The Hunger Games. It's exciting. It's exhausting. It's exhilarating. Yes, we're nerds, and we don't care who knows it!
As the networks announce their pick-ups, we'll be giving you the rundown on what the shows are about and who's starring in them. 
So keep checking back with us throughout the week as we update this post with the latest pick-ups...
Splitting Up Together, ABC: Based on a Danish series, Jenna Fischer (The Office) and Oliver Hudson (Scream Queens) star as a couple whose marriage is reignited by their divorce. Bobby Lee, Diane Farr, and Lindsay Price also star. 
Me, Myself and I, CBS: Saturday Night Live's Bobby Moynihan stars in this sitcom that examines one man's life over a 50-year span, with the comedian playing the 40-year-old present day version.
S.W.A.T., CBS: Criminal Minds' Shemar Moore stars In this drama inspired by the film of the same name that centers on a locally born and bred S.W.A.T. sergeant is torn between loyalty to the streets and duty to his fellow officers when he's tasked to run a specialized tactical unit that is the last stop in law enforcement in Los Angeles.  Stephanie Sigman, Alex Russell, Jay Harrington, Lina Esco, Kenny Johnson and Peter Onorati also star, with Shawn Ryan serving as showrunner.
By the Book, CBS: The comedy follows a modern-day man who decides to start living his life according to the Bible. The cast includes Jay R. Ferguson, Ian Gomez, Tony Rock, Lindsay Kraft and David Krumholtz. The Big Bang Theory's Johnny Galecki serves as an EP.
Seal Team, CBS: David Boreanaz is already back on TV after the end of Bones, set to star in this action drama that follows the professional and personal lives of the most elite unit of Navy SEALs as they train, plan and execute the most dangerous, high stakes missions our country can ask of them. The cast also includes Bates Motel's Max Thieriot, A.J. Buckley, and Jessica Paré.
Instinct, CBS: A former CIA operative who has since built a "normal" life as a gifted professor and writer is lured back into his old life when the NYPD needs his help to stop a serial killer. Based on the soon-to-be-published James Patterson book, the drama stars Alan Cumming, Bojana Novakovic, Daniel Ings, Naveen Andrews and Khandi Alexander.
Wisdom of the Crowd, CBS: Jeremy Piven is back in this drama based on the Israeli format of the same name, playing a visionary tech innovator who creates a cutting-edge crowdsourcing app to solve his daughter's murder, which also happens to revolutionize crime solving in the process. Monica Potter, Blake Lee and Richard T. Jones also star.
9JKL, CBS: This multi-cam sitcom starring Mark Feuerstein is inspired by a  time in his adult life when he lived in apartment 9K in the building he grew up in, sandwiched between his doting parents' apartment, 9J, and his brother, sister-in-law and their baby's apartment, 9L, and his attempts to set boundaries with his intrusive but well-meaning family. Got all that?
Good Girls, NBC: Two years after both Parenthood and Parks and Recreation went off the air, respective stars Mae Whitman and Retta make their return to the Peacock with this buzzy dramedy from Scandal producer Jenna Bans. Described as a mix of Thelma and Louise with a bit of Breaking Bad, Good Girls follows what happens when three suburban moms get tired of trying to make ends meet and decide it's time to stick up for themselves by robbing the local supermarket at (toy) gunpoint. But when the manager catches a glimpse of one of them and the loot is far more than they expected, it doesn't take long for the three best friends to realize the perfect getaway will be harder than they think. The third lead role will be recast following Kathleen Rose Perkins' departure. Reno Wilson, Manny Montana, Lidya Jewett, Izzy Stannard and Matthew Lillard also star.
Reverie, NBC: Sarah Shahi and Dennis Haysbert star in this grounded and dramatic thriller about a former detective specializing in human behavior who is brought in when the launch of an advanced virtual reality program has dangerous and unintended consequences.
The Good Doctor, ABC: Norman Bates is now a surgeon! Freddie Highmore plays a young autistic surgeon who relocates from a quiet country life to join a prestigious hospital's surgical unit. Alone in the world and unable to personally connect with those around him, the surgeon uses his extraordinary medical gifts to save lives and challenge the skepticism of his colleagues. House creator David Shore and Lost star Daniel Dae Kim executive produce, and Antonia Thomas, Nicholas Gonzalez, Chuku Modu, Irene Keng, Beau Garrett, Hill Harper, and Richard Schiff also star. 
Untitled Zach Braff/Matt Tarses Project, ABC: Zach Braff stars as a brilliant radio journalist, husband, and father of two who quits his job and starts his own company, but discovers it's going to be harder than he thought. The comedy is based on the podcast StartUp and also stars Tiya Sircar, Hillary Anne Matthews, Michael Imperioli, Elisha Henig, and Audyssie James. 
The Mayor, ABC: Hamilton's Daveed Diggs is one of the executive producers behind this somewhat political comedy about a young rapper (Brandon Michael Hall) who runs for mayor of his California hometown to generate buzz for his music career. When he somehow wins, he needs help from his mom (Yvette Nicole Brown) and friends like Valentina (Lea Michele) to transform the city he loves. Bernard David Jones and Marcel Spears also star. 
For the People, ABC: Shondaland's newest series is set in the United States District Court for the Southern District of New York and follows brand new laywers working on both sides of the most high-profile and high-stakes federal cases in the country, all as their lives intersect in and out of the courtroom. Britne Olford, Lyndon Smith, Ben Rappaport, Susannah Flood, Wesam Keesh, Rege-Jean Page, Ben Shenkman, Hope Davis, Vondie Curtis-Hall, and Anna Deavere Smith all star. 
The Crossing, ABC: TV's newest big mystery? This drama follows a small American fishing town that suddenly finds itself giving asylum to refugees fleeing from a war-torn country...except they're American, the war they're fleeing hasn't happened yet, and no one's life will ever be the same. Steve Zahn, Natalie Martinez, Sandrine Holt, Rick Gomez, and Jay Carnes all star.
The Gospel of Kevin, ABC: Jason Ritter (Parenthood) stars as Kevin, a cluelessly self-serving man on a dangerous path to despair. He returns home to stay with his widowed twin sister (JoAnna Garcia Swisher) and niece and encounters a celestial being named Yvette (Cristela Alonzo) who gives him a mission to save the world. J. August Richards, Chloe East, Dustin Ybarra, and India de Beaufort also star. 
Black Lightning, The CW: It's official, Greg Berlanti owns this network. Black Lightning, based on the DC Comics character, stars Cress Williams as Jefferson Pierce/Black Lightning, a former vigilante whose pulled back into the fight. Nefessa Williams, China Anne McClain and Christine Adams also star.
Life Sentence, The CW: No need to miss Lucy Hale after Pretty Little Liars ends as she stars in this dramedy about a woman who was diagnosed with terminal cancer finding out she's not dying after all, who then has to learn to live with the choices she made when she decided to "live like she was dying." The cast includes Dylan Walsh, Jayson Blair, Carlos PenaVega, Elliot Knight and Brooke Lyons. 
Dynasty, The CW: The Carringtons and the Colbys are back to feud for control over their fortune and their children in the CW's revival of the classic primetime soap. Melrose Place vet Grant Show stars as Blake Carrington in a cast that also includes Elizabeth Gillies, Nathalie Kelley, James Mackay, Alan Dale, Sam Adegoke, Robert Christopher Riley and Rafael de la Fuente.
Valor, The CW: The boundaries between military discipline and human desire are tested on a US Army base that houses an elite unit of helicopter pilots trained to perform clandestine international and domestic missions. The drama unfolds in the present as well as in flashbacks to a failed mission involving one of the first female pilots in the unit, ultimately uncovering layers of personal and government/military secrets, and leading to a season-long plan to rescue a group of MIA soldiers. Matt Barr (Sleepy Hollow), Charlie Barnett, W. Tre Davis, Christina Ochoa, Nighel Thatch, Corbin Reid and Melissa Roxburgh star.
The Resident, Fox: Gilmore Girls' Matt Czuchry and Emily VanCamp team up for this medical drama about a tough, brilliant senior resident that guides an idealistic young doctor through his first day, pulling back the curtain on what really happens, both good and bad, in modern-day medicine. Bruce Greenwood, Manish Dayal and Shaunette Wilson also star. 
Ghosted, Fox: Starring The Office's Craig Robinson and Parks and Recreation's Adam Scott, the sitcom centers on a cynical skeptic (Robinson) and a genius "true believer" in the paranormal (Scott) after they are recruited by a secret government agency to look into "unexplained" activity in Los Angeles. 
LA to Vegas, Fox: This workplace comedy focused on an airline crew and the eccentric passenger, who, every weekend, take the roundtrip flight from Burbank to Las Vegas together. Dylan McDermott, Kim Matula and Ed Weeks star in the comedy from Will Ferrell and Adam McKay. 
The Gifted, Fox: It's the X-Men TV show...just don't call it the X-Men TV Show, OK? From Bryan Singer, this Marvel drama centers on a suburban couple whose ordinary lives are rocked by the sudden discovery that their children possess mutant powers. Forced to go on the run from a hostile government, the family joins up with an underground network of mutants and must fight to survive. Stephen Moyer, Amy Acker, Sean Teale and Jamie Chung star.
Rise, NBC: Ted Mosby + Moana + Jason Katims = sold! How I Met Your Mother star Josh Radnor plays in the Friday Night Lights and Parenthood showrunner's latest drama offering, about a dedicated teacher who takes over his high school's lackluster theater department. Moana's breakout star Auli'i Cravalho plays one of his students, with Rosie Perez and Marley Shelton also set to star.
The Brave, NBC: This military drama comes from the production team behind Homeland that looks into the complex world of America's elite undercover military heroes. While D.I.A. Deputy Director Patricia Campbell (Anne Heche) and her team of analysts wield the world's most advanced surveillance technology from Washington, D.C., Adam Dalton (Mike Vogel) and his heroic Special Ops squad of highly trained undercover specialists use their unbreakable bond and commitment to freedom to save lives of innocent people and execute missions in some of the most dangerous places in the world.
Inhumans, ABC: Ordered straight to series, the latest Marvel outing at ABC will explore the never-before-told adventure of Black Bolt and the royal family. Set to star are Anson Mount, Game of Thrones' Iwan Rheon, Serinda Swan and Ken Leung, with Dexter's Scott Buck acting as showrunner.
10 Days in the Valley, ABC: Kyra Sedgwick stars as an overworked television producer and single mother, already dealing with a fractious separation when her daughter goes missing. Her entire life, and controversial TV series, will implode as she learns no one can be trusted. Adewale Akinnuoye-Agbaje, Malcolm-Jamal Warner and The Walking Dead's Emily Kinney all star.
Young Sheldon, CBS: It's The Big Bang Theory spinoff! Centering on a young Sheldon Cooper (Jim Parsons), who will be played by Big Little Lies' Iain Armitage, the show will focus on his life in East Texas with his family. Chuck Lorre and Steve Molaro serve as EPs. 
Orville, NBC: Seth MacFarlane's hourlong dramedy follows the adventures of the Orville, a a ship in Eather's interstellar fleet 300 years in the future. Facing cosmic challenges, the ragtag team will "boldly go where no comedic drama has gone before." Joining MacFarlane on the cast are Adrianne Palicki, Chad Coleman, Halston Sage and Scott Grimes. 
Will and Grace, NBC: The gang is back! Debra Messing, Eric McCormack, Megan Mullally and Sean Hayes are all reprising their iconic roles for the 10-episode revival of the beloved series.
A.P. Bio, NBC: Glenn Howerton stars as a cynical Ivy League professor who goes to work as a high school biology teacher after missing out on his dream job. He then uses his students to exact revenge on those who wronged him. Patton Oswalt also stars, with Seth Meyers and Lorne Michaels serving as EPs.
Keep checking back with us for the latest pilot pick-ups...
(Originally published Wednesday, May 10, at  2017, 11:20 am PT)