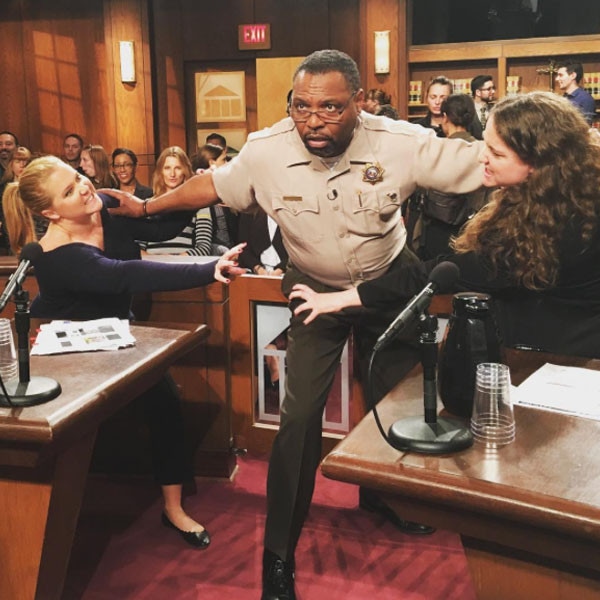 Instagram
All rise for the honorable...Amy Schumer?
That's right—the Golden Globe nominee traded in the movie cameras for the courtroom on Tuesday when she paid a visit to the set of Judge Judy. Of course, the comedian took matters into her own hands as she made herself comfortable in Judy's chair and bantered with the show's signature bailiff, Petri Hawkins-Byrd.
Byrd even helped the star get into the swing of things by handing over some paperwork. 
"Dream day with @byrdman1157 and #judgejudy he always does a no look pass with documents! Thank you for having me and my sis!!!" she wrote on Instagram after the visit. 
The Snatched star and her sister Kim Caramele really got into character when they took to the stands to pose as battling litigants with Byrd stuck in the middle of things. 
"Ay yo what up Byrd!" Schumer quipped. 
The longtime bailiff was more than happy to have a visit from the funny ladies. 
"Her Funnyness", Amy Schumer and I goofing around on the set of...of... (Dagumit, what's the name of that show again?")#amyschumer #OfficerByrd #judgejudy," he wrote on Instagram. 
Plus, it seems the ladies are tried and true fans of the show. If you have any doubt, just take a gander at this photo on Kim's Instagram account—she's watching Judge Judy. 
Hey, Judge—if you ever want to go on a vacation, Amy and Kim seem to have you covered.