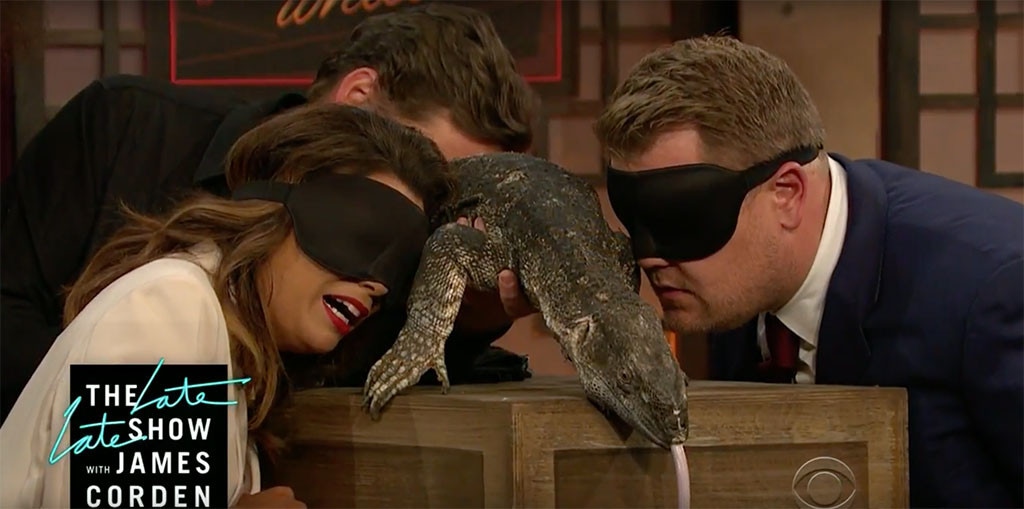 YouTube
Well, we were definitely on the edge of our seats during that. 
Eva Longoria got more of a surprise than she bargained for Tuesday night when she set foot on The Late Late Show set for a round of "Nuzzle Whaaa?" with host James Corden, Paul Feig and Sam Richardson. 
The game was simple—the stars are blindfolded and have to nuzzle a mystery object. It started off rather harmless when they were tasked with nuzzling a cake, a disco ball and an ice sculpture of a sea horse. Cold, but easy. 
However, the stakes rose when Longoria and Corden unknowingly had to come face to face with a large lizard. Judging by the sounds of the audience, the actress and host knew something was awry. 
"I hope it's not a snake," she yelled out. No, Eva—it was worse. 
The duo quickly caught on that it was an animal they were touching, but couldn't quite figure out which one. 
"Is it a possum?" Longoria anxiously asked as she touched her head to the reptile still blindfolded. "Is it a squirrel or raccoon?...Is it a rat?"
Finally, Corden figured it out. "Is it a lizard?" Bingo!
Longoria immediately ripped off her blindfold and screamed in shock. 
"Could that have hurt me in any way?" Corden asked in outrage. While the answer was no, the host was not so trusting. "I don't believe you!"
Watch Longoria's reaction above and try not to laugh.