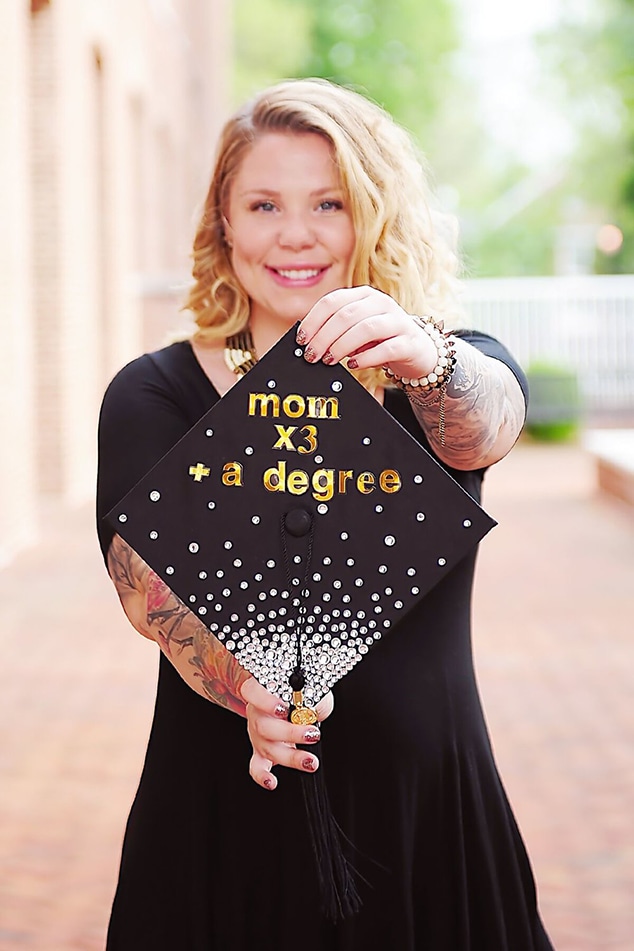 Jenn Glasser
To say Kailyn Lowry has a lot going on right now would be an understatement. 
Not only is she a mother-of-two with one on the way, she's also still starring on MTV's Teen Mom. But even more impressive, she's about to graduate from college on May 13.
The 25-year-old chatted with E! News about finishing up her college days and earning her bachelor's degree from Delaware State University, admitting the last six years of doing so has been quite overwhelming.
"It's been a long and emotional journey, especially without any support from my parents," she told us. "But I'm so happy and relieved!"
She plans to celebrate with her closest friends over a special dinner after the ceremony this weekend.
So what's the reality star's next move? Grad school! Indeed, Lowry told us she is hoping to extend her education by moving onto her master's after she graduates. 
Lowry also recently took to her blog to open up about the mix of emotions that comes with graduating.
"If you follow any amount of the show, you know I've been struggling to get through school and earn my bachelor's over the last 6 years...Yes, 6 years," she wrote. "Between teen motherhood, financial hurdles in the beginning, then moving to a new state, marriage, babies and divorce... and then of course just wanting to give up, I (barely) held on and I'm FINALLY graduating May 13!"
She continued, "This has been an extremely long and emotional road for me and for my family."
Meanwhile, Lowry is currently pregnant with her third child and is due to give birth this summer. Last week, the reality star confirmed the news that Chris Lopez is the baby's father.
"She really has nothing to do with Chris, the father," an insider told us. "She plans on raising the baby on her own."