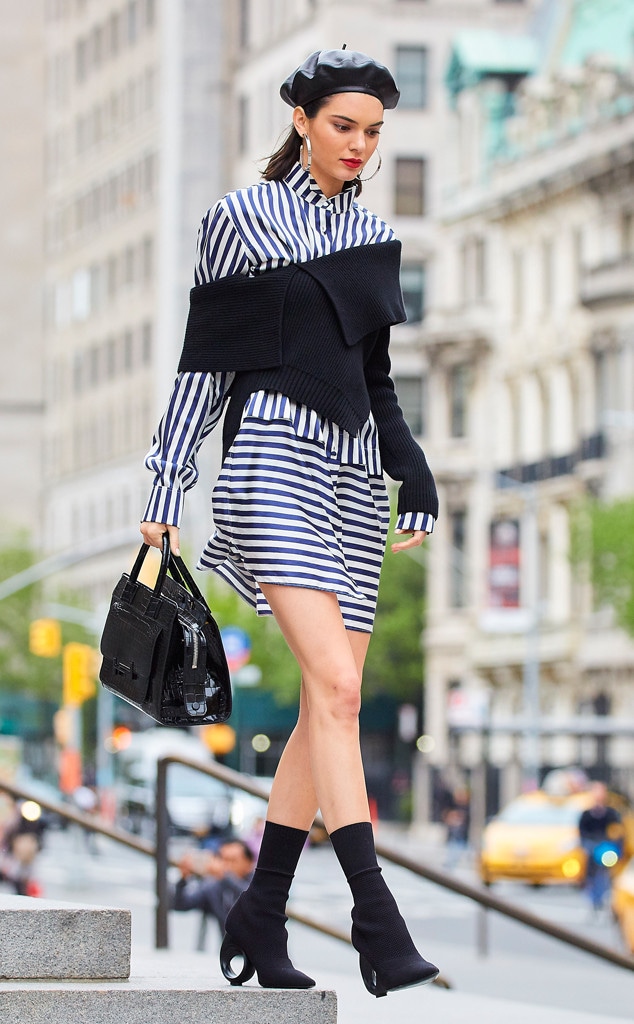 J. Webber / Splash News
Reinventing personal style isn't an easy feat.
Whether you're aware of it or not (or even want to admit it), your style (along with everyone's) changes with each season. Although you may try new styles, new silhouettes and new trends time and time again, what you like has an impact on your overall clothing identity. And celebrities are probably the most guilty of this.
Enter: Kendall Jenner, who's constantly changing up her look (on purpose). Who better to teach you how to reinvent your spring style than those consistently trying new things?
With that said, you should definitely have some off-the-shoulder tops and one-shoulder tops in your wardrobe this spring, but you're not going to be boring and wear them like everybody else. Take the supermodel's advice, slip a tee, button-down or shirt dress underneath your top and angle it to your liking. You've instantly gone from looking like everyone else to being a style star in your own right. Boom.
One surefire styling tip that screams, "I have my sh*t together," is throwing on a power suit. Elle Fanning's forest green situation is grounds for inspiration. No matter the shoe pairing (whether you choose sneakers like the star, chunky heels or ankle boots), you look put together and polished without putting in any real effort. It's one of those fail-proof, slip-on-and-go outfits.
So this reinvention tip is simple: Match your top and bottoms exactly....and never look a mess again.
Stoianov/FAMEFLYNET PICTURES
Similar to Elle's tip, Olivia Culpo's proving if you wear one, solid color (or shade, in this case) you can never go wrong. Leave wearing multiple colors at once for another day, pick your favorite and deck yourself out in it like Olivia. This reinvention tip is all about streamlining future looks—no matter how youthful the ensemble (overalls, anyone?), you look chic and mature.
Three simple tips to implement every day of the week.