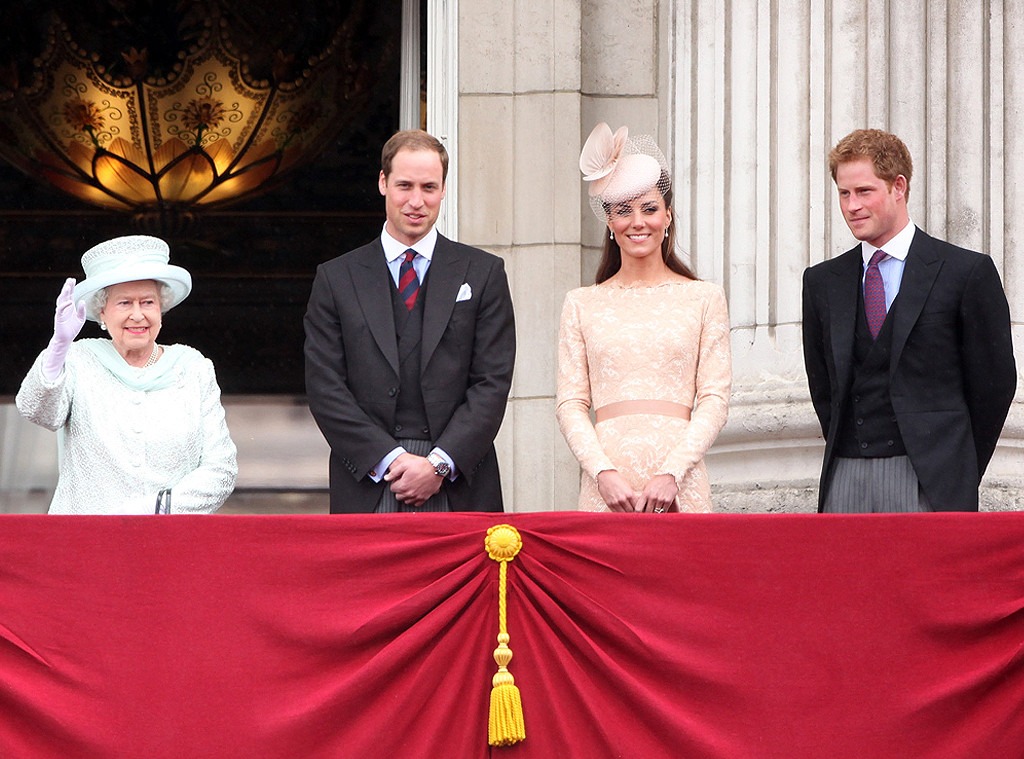 Dan Kitwood/Getty Images
When you're a royal, food has virtually no limits. 
Such is the case for current members of the royal family, who enjoy the perks of their high-profile lives with diets of their own design, whether that means packing a cake for train travel or indulging in potato skins stuffed withcheese.
To start, Queen Elizabeth II is a well-known chocoholic with a strong penchant for chocolate biscuit cake. She's such a fan, the 90-year-old doesn't risk ever being too far away from the dessert. According to the queen's former personal chef, Darren McGrady, a senior chef would bring the cake with them on a train behind the queen's on trips.  
"Now the chocolate biscuit cake is the only cake that goes back [to the queen] again and again and again every day until it's all gone," McGrady recalled to Recipes Plus (via the Huffington Post). "She'll take a small slice every day until eventually there is only one tiny piece, but you have to send that up, she wants to finish the whole of that cake." 
Chris Jackson - WPA Pool/Getty Images
In addition to her sweets, the monarch prefers tupperware cereal, gin cocktails, crustless tuna sandwiches and enjoys a grating of truffles on her scrambled eggs when someone sends the expensive ingredient to her as a gift. "She was too frugal to ever order fresh truffles," McGrady told The Telegraph.
Meanwhile, the royal brothers, Prince William and Prince Harry, had their own comfort foods growing up with McGrady in the kitchen. According to the chef, despite their lineage, they were your typical kids with typical young tastebuds.
Pool/Sam Hussein/WireImage
"When I was cooking for the Princes, they loved pizza and potato skins stuffed with mozzarella," he told the Daily Mail. 
Today, things are a bit different for the adults. Prince Harry has reportedly ditched the cheese for a dairy-free diet as of late while his older brother jokes he's at the mercy of his wife, Duchess of Cambridge Kate Middleton's cooking.
"William has to put up with my cooking most of the time," the mother of two joked at an event in June with Michelin-starred chefs.
"It's the reason I'm so skinny!" he retorted. 
All kidding aside, despite typically cooking at home, Middleton seems to have little fears about stepping outside of her culinary comfort zone. For example, while on their British Columbia royal tour, she and William gave geoduck clams a try. "It's really unusual," she remarked, according to Delish. "I've never seen it before."
She indulges in both sides of her palette, from the spicy to the sweet...to the raw. When she wants to keep her diet in check, the 35-year-old is said to dabble in a raw food diet, including watermelon salad and tabbouleh.
While pregnant with Prince George, she craved homemade vegetarian curry from a local grocery store. "My wife made her curry a little while ago which she enjoyed," the owner told Hello! "I think she came in one day and my wife was cooking upstairs. She said it smelled lovely, so my wife gave her some to take away." 
On the flip side, the royal is reportedly known to enjoy something sweet at the end of a family meal—perhaps a trait her son has since inherited. He's even learned how to properly order cake from a local cafe. 
"Kate said to George, 'Ask the nice lady what you would like to have,'" a local told People. "George said, 'Excuse me nice lady, but can I have...' and pointed to a cake on the counter."
Little does the 3-year-old know he will never have to live without cake, especially if he takes a tip from his great-grandmother and travels with his favorite.