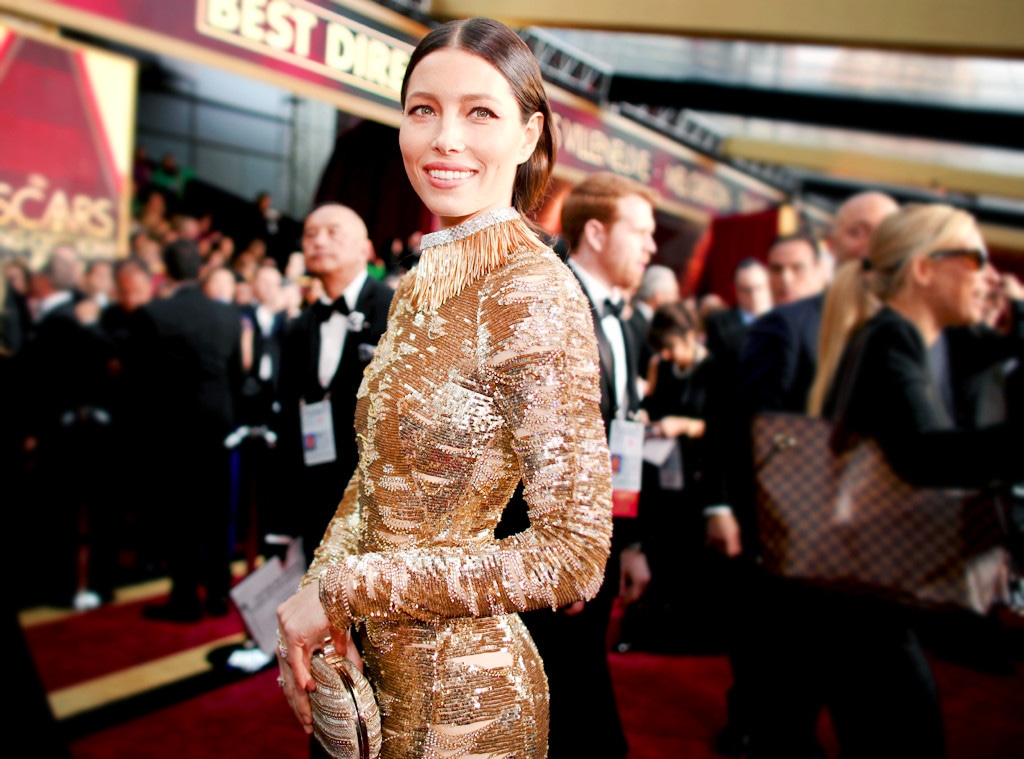 Christopher Polk/Getty Images
Jessica Biel has already had quite a year, and it's about to heat up.
Sure, there's the whole Mrs. Justin Timberlake part of it, and the fact that she attended the Oscars looking like an Oscar herself in a gold KaufmanFranco gown topped with a $2 million gold and diamond Tiffany necklace. She's also mom to 2-year-old son Silas, and family life has never looked sweeter for the star.
But the 35-year-old actress is also about to make her return to TV in a starring role in USA's The Sinner, one of those de rigueur limited series that, in season one, follows Biel's Cora, a wife and mom who one day goes berserk all of a sudden (the promo pic of a blood-stained Biel is a clue as to what sort of trouble she gets into). Then Bill Pullman's detective Harry Ambrose has to figure out what led to Cora committing a gruesome crime.
Biel recently attributed motherhood for her being more "openhearted" in her approach to work. "I don't know if that sounds kind of goofy," she told E! News at the series' red carpet premiere at the 2017 Tribeca Film Festival. "I just feel like I'm always ready for anything and everything at this point."
Point being, Biel—who is also executive-producing with partner Michelle Purple—is back in action, and in a role that could be characterized as "playing against type"—until you realize that the onetime teen sweetheart has always had a taste for the adventurous when it comes to her work.
As an actress, Biel's breakout role came playing the mildly rebellious Mary Camden on the WB favorite 7th Heaven. But once we'd seen it, we've never forgotten a blond Biel drunkenly parading around the dorm and getting punched in the face by her fellow WB star James Van Der Beek in the trailer for the 2002 dark comedy The Rules of Attraction, based on the Bret Easton Ellis book of the same name.
The indie film remains quotable in the "whatever, I don't care, I don't major in math" department, and also reminds us that Biel showed an interest early on in meatier scripts, as well as the crowd-pleasing fare such as I Now Pronounce You Chuck & Larry (as the requisite hot girl among buffoons) or Valentine's Day (as one of the hot bunch) that she's also starred in.
Even the Texas Chainsaw Massacre remake Biel starred in in 2003 had a gritty, independent pedigree, the 1974 original being a pioneering entry in the horror canon in its day.
The Rules of Attraction was a satire about college life, and Biel continued to be drawn to quirky stories—which don't always translate into box office, which is why there are probably lots of Jessica Biel projects you're unaware of.
In 2008 she starred in a David O. Russell movie that was called Nailed at the time, playing a sweet rollerskating waitress whose personality takes a turn after a dopey surgeon played by Bill Hader leaves a nail in her head and she can't afford to have it taken out. Jake Gyllenhaal played a nice guy senator she eventually falls for, but due to a distribution issue the movie—which was intended as a satire about the health care industry—didn't come out until 2015, when it was released as Accidental Love, with Russell going by Stephen Greene in the credits. (The all-star cast also includes James Marsden, Paul Reuben and Tracy Morgan.)
And it got nailed by critics when it did come out, but the postmortem consensus is that, if there hadn't been so many money issues early on, perhaps it would have turned out as Russell had envisioned.
"I am being selective, and I'm choosing things that I really want to do, creatively," Biel said in 2006 while promoting the drama Home of the Brave, in which she played a soldier struggling to adjust to life back home after serving in Iraq. "Maybe in the past I had made decisions to do things for other reasons, for...maybe for an international audience, for...You know, you make choices about different projects a lot of the time not necessarily for creative reasons, but I've been trying to make some seriously important choices, simply based on creative and my creative desires."
She added, "It's always nice to break the mold once again and say, 'Hey, surprise, I can do something else!'"
Biel also won raves that year for The Illusionist opposite Edward Norton and Paul Giamatti (which, oddly enough, was one of two period magician movies that came out around the same time, the other being The Prestige with Hugh Jackman, Christian Bale and Scarlett Johansson—because such things tend to happen in pairs).
But in 2007, the actress said that her earlier days as a 7th Heaven star eschewing her good-girl reputation by posing for sexy pictures, like her infamous topless shoot for Gear in 2000 (which she already regretted a year later), had hurt her career.
Frazer Harrison/Getty Images
"[One director told me,] 'I'm not looking for the sexiest woman; I'm looking for the girl next door," Biel, who had been named Esquire's "Sexiest Woman Alive" in 2005, told Elle in 2007.
"Parts I really want aren't going to me," she added. "Like The Other Boleyn Girl with Scarlett Johansson and Natalie Portman. I don't want to say that there's nothing I love that I can't have. But there's still the occasional script that the director doesn't want to see you for. They want that top tier of girls."
Biel did have the big-screen adaptation of Nöel Coward's Easy Virtue lined up at the time, as well as I Now Pronounce You Chuck & Larry and the sci-fi thriller Next with Nicolas Cage in the can, but the frustration was real.
That year also marked the early stages of Biel's relationship with Timberlake, which would quickly overshadow anything she was doing on camera as far as headlines went for a good long while—a side effect of the intrigue surrounding their romance that persists to this day.
Jonathan Leibson/Getty Images for GLSEN
Biel continued to cherry-pick her roles, some meatier (playing Vera Miles in Hitchcock, about the real-life drama surrounding the making of Psycho, and a delusional mother in The Truth About Emanuel) than others (Total Recall, The A-Team).
She revealed that she had to audition for the 2012 romantic comedy Playing for Keeps, in which she played a single mom whose son is coached by Gerard Butler's disgruntled former pro athlete.
"I'm not always offered things," Biel told L.A.'s KABC 7. "But sometimes when you're offered something and then you say yes to it, it's way more intimidating to step onto the set when you haven't fought for it, you haven't earned it, you didn't win it. You haven't even tasted what it could be yet. It's much scarier when you haven't auditioned."
She also dabbled in TV, popping up on Family Guy, The New Girl and most recently the critically adored animated Netflix series Bojack Horseman, voicing "Jessica Biel."
As her interests diversified, she also went into business, opening Au Fudge, a kid-friendly restaurant and social club for families, got involved with the nonprofit WomanCare Global, and reentered the production world.
When she was pregnant with Silas, she produced and played the ill-fated wife in The Book of Love (originally called The Devil and the Deep Blue Sea)—and Timberlake wrote the music for the drama about a widower played by Jason Sudeikis who befriends a homeless teen and helps her build a raft she plans to use to sail across the Atlantic. Bill Purple, the husband of Biel's producing partner Michelle Purple, directed the film, which premiered at the Tribeca Film Festival in April 2016.
Asked what sort of experiences she had had in life that had led her in new directions, like Sudeikis' character onscreen, Biel told the New York Observer, "Definitely when I was finishing working on television as a kid and trying to make my way in film. Also after having a baby, you feel like a completely different person. I think this is another moment for a reinvention. I'm not quite sure how to navigate that yet."
"I found the script off The Blacklist [the list of promising but unproduced scripts floating around Hollywood] and brought it to Jess, who'd just started a production company," Bill Purple explained. "She responded to it, and we were like, 'all right, let's do this.' We started the process of casting and thought of Jason. The story is very much like every independent film. It's Sisyphean. All you're doing is pushing this rock up the hill and it slides down. That happened to us a million times.
"At a certain point, we took the responsibility of saying, 'We are going to make this film. We might be a hundred years old, but we are making this film.' Making an independent film is about perseverance."
And next up, The Sinner premieres Aug. 2 on USA. While it could also be seen as coming full circle, Biel is one of many movie stars to find her latest challenge on television—in a show she helped shepherd to the screen herself.
Cora is "a very unexpected kind of role," Biel said on The Tonight Show Starring Jimmy Fallon in February. "It's about this very normal woman who has a family, a young son, has a husband, just going about her normal life, and commits a very public act of violence, which is shocking—and she doesn't know why. So it's a question of 'why did she do that?' not 'who did it?'"
Exactly the sort of role that Biel's stealthily evolving career was leading to all along.
The Sinner premieres Wednesday, Aug. 2, at 10 p.m. on USA.
(E! and USA are both members of the NBCUniversal family.)