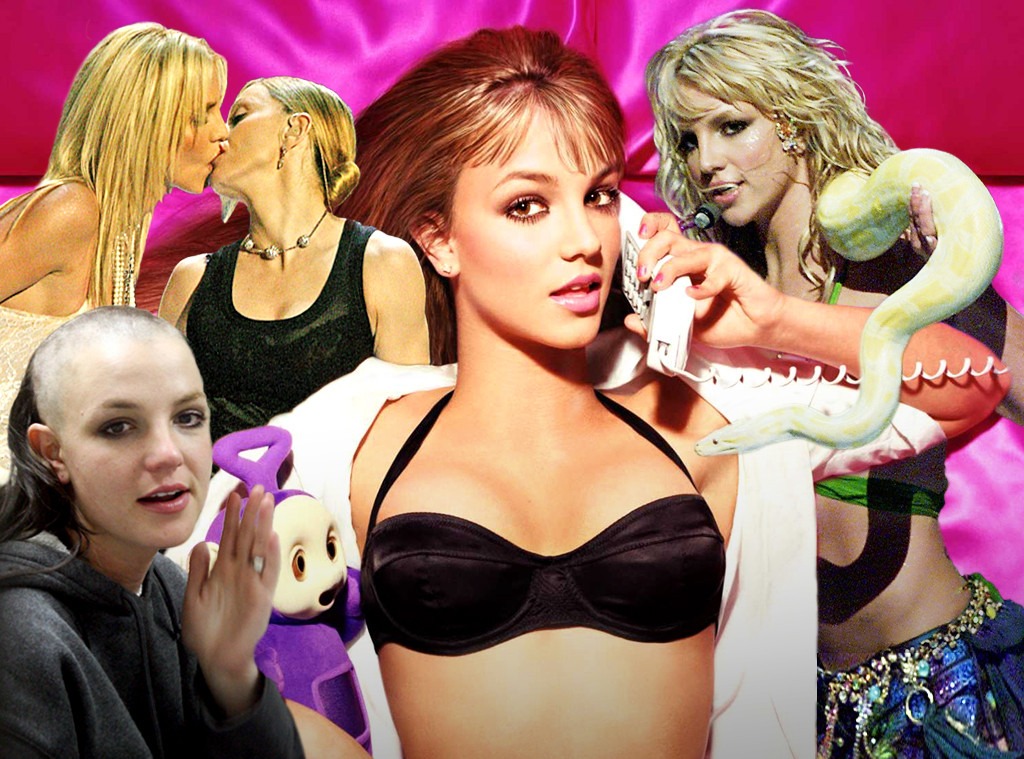 E! Illustration
Diane Sawyer once asked Britney Spears, "Is this as far as you're going to go?"
It was 2003 and a 21-year-old Spears, fresh off the release of her fourth studio album In The Zone, sat down with the journalist to review all that had transpired in her whirlwind career up until that point.
"I remember reading once, you said, 'I'm not gonna do that Madonna thing and try to shock everybody," Sawyer continued. 
"Never say never," the then-single pop star responded with a smirk. 
In fact, just a few months earlier, she had famously kissed the fellow pop icon on the MTV Video Music Awards stage—a moment that would forever live in the annals of hallmark MTV moments. However, it was hardly the end of the singer's surprising public behavior. Instead, it was more of the beginning.
Here's a look back at the princess of pop's most shocking moments from when she was not a girl, not yet a woman. 
Making Heads Roll for Rolling Stone
Spears' shock and awe factor began early when she posed on the cover of Rolling Stone in 1999 amid mounting fame from her debut studio album, ...Baby One More Time. Clad in a black bra and polka dot mini shorts while holding a stuffed Teletubby in one arm, the 17-year-old rising star scandalously toed the line between child and woman with the modern Lolita theme. 
Moms across the country were not happy, but nevertheless, Spears was on her way to becoming the biggest solo pop star of the new millennium. 
AP Photo/Suzanne Plunkett
Nearly Nude 
Just a year later, Spears took the MTV Video Music Award stage for the first time in 2000. Not only was it her debut, but she was also opening the show and made sure all eyes were on her by ripping off a suit and hat to reveal a flesh-toned sparkling bra and matching pants underneath.
It remains one of her most infamous looks to date and, while the style is considered typical by today's Hollywood standards, nearly two decades ago, it was the height of daring. 
A Sultry Dance With a Snake
As if anyone thought she couldn't top her first routine at the MTV VMAs, the following year, Spears stepped out with a surprising accessory—a python—to perform her most recent hit track, "I'm a Slave 4 U."
"I wanted it to be all jungly," she later told Oprah Winfrey when the mogul asked her exactly what kind of vision she had for the performance. Had she expected the level of reaction to the controversial choreography? "Honestly no, not at all," she added. 
A "Hollywood" Kiss
Still, the MTV VMAs hadn't seen Spears' most shocking. Fast forward two years later and the pop star returned alongside Madonna and Christina Aguilera for one of the most iconic routines to grace the ceremony in its entire history. As they swayed to Madonna's "Hollywood" dressed in bridal and groom getups, the singer paused to lay a smooch on Spears. 
Justin Timberlake's blank stare said it all. 
Getting Hitched on the Fly
Behind the scenes, Spears and her first major public flame, Timberlake, had split after a 3-year romance. While rumors swirled that Spears had cheated on the former boy band member, she forged ahead with her newfound single life, including one brief and confusing rumored fling with Fred Durst of Limp Bizkit. 
Then, at 23 years old, Spears headed off to the Little White Wedding Chapel. In the early hours of Jan. 3, 2004 during a weekend in Las Vegas, the singer and her childhood friend, Jason Alexander, decided to get hitched. She famously sported a crop top and baseball cap for the occasion. The marriage was annulled 55 hours later. 
"It was me being silly, being rebellious, and not really taking the responsibility of what I was doing, you know? And after partying, you know, you really don't think about what you're doing," she told E! News at the time. "So, it was one of those things that were really silly."
Driving Home Baby
By 2006, Spears had become a newlywed yet again to backup dancer Kevin Federline. As a Mrs., the songstress also welcomed her first child, son Sean Preston. When he was 4 months old, Spears came under fire after she was photographed with the baby sitting in her lap in the driver's seat. 
"I did it with my dad. I'd sit in his lap and I'd drive. We're country," she explained to Matt Lauer in a televised interview. "I'm not perfect. I'm human."
Buzzing the Pop Princess Away
Arguably the most shocking moment of Spears' career was when she stepped inside a hair salon on Feb. 16, 2007 and shaved her head herself. A mother of two, the 25-year-old had filed for divorce from Federline a few months earlier and was exploring the single scene once again alongside the era's biggest party girls, Lindsay Lohan and Paris Hilton. 
"When she shaved her head, it was quite literally a way for her to try to rid herself of her past," a source told E! News. 
"She felt like everything in her life was dictated by someone else. In her mind, people were always trying to tell her what to do, how to act….They were constantly touching her, telling her what to wear, how to style her hair…She felt like a doll. Shaving her hair off was the ultimate rebellion. It was almost a cleansing experience. It was her way of sending a clear message that she was no longer willing to be controlled."
An Involuntary Hold
While it was her most famous act of rebellion, it was also a considerably loud cry for help. In the years that followed, Spears struggled to retain custody of her sons, was hospitalized and was placed under a conservatorship controlled by her father Jamie Spears, and lawyer Andrew M. Wallet. 
Exactly 10 years ago today on January 31, 2008, she was committed to the psychiatric ward of the UCLA Medical Center, where she remained on 5150 involuntary hold for the next five days. By July of the same year, Spears had regained visitation rights to her sons. 
However, her spotlight may have dimmed but it never went out on the star. Instead, it shone brightly as she triumphed over her personal struggles and revived her career by the late 2000s with the release of Circus and all the professional endeavors that followed. 
Now the leader of a wildly successful residency in Las Vegas, Spears enjoys a bit of a professional routine these days with plenty of time to spend at home with her growing sons. Sure, Spears' life is less shocking as of late, but fans around the world are in no less awe of her. 
(This story was originally published Friday, February 17, 2017 at 3:00 a.m. PST)