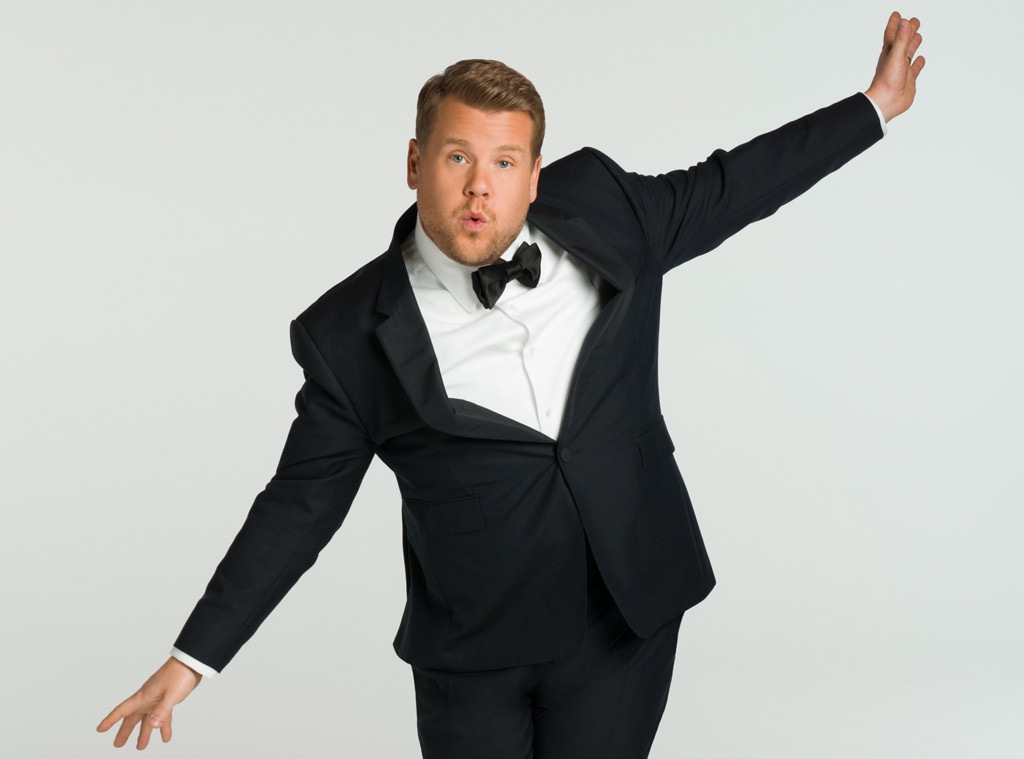 Jason Bell/CBS
 Now that the list of nominees for the 2018 Grammy Awards has been released, the countdown to the big night can officially begin.
James Corden will be fulfilling the role of host for the second year in a row. The late night comedian announced the news during a panel at CBS' Upfronts event in New York, where this year's awards ceremony will be held.
Topping last year's performance won't be easy for Corden. The Late Late Show host pulled out all the stops at the 2017 Grammy Awards. Here's a look back:
Corden kicked the show off with a Hamilton-esque rap monologue, riffing on everything from Beyoncé's twins to our current political situation. He pulled out lines like: "Beyoncé performing, the Queen is here dummy/ She'll slay the whole stage with twins in her tummy." And: "Rihanna and Drake, they each can win eight/ They sound good together, I think they should date." 
Corden also made the expected references to some of the turmoil that people have been experiencing lately, albeit a pretty subdued one, all things considered. (Anyone who remembers the politically-imbued SAG Awards will certainly find this subtle, yet inspiring).
"We sit here tonight no matter our race, where we were born or color or face," rapped Corden. "We're using this art, remembered forever/ And we can survive just by sticking together." 
Kevork Djansezian/Getty Images
The next time he graced the stage Corden had a last-minute reaction to 21 Pilots, who accepted their award for Best Pop Duo/Group Performance without any pants on. The two artists explained that, years ago, they swore to each other they would accept their first Grammy Award in their underwear, which led to Corden standing in center stage in nothing but his skivvies. 
"I told myself that if I ever hosted the Grammys I would do it in my underwear," Corden joked. "It's an amazing coincidence, really." 
Then, while everyone was in a Beyoncé-induced perfection coma (seriously, that performance!), Corden decided to liven things up a bit with one of his old standbys. 
"CBS has been very concerned with me hosting the Grammys," said Corden, as the camera filmed him in an extreme closeup. "Since my show is on so late at night, they were worried no one would know who I am, so they made me wear this."
The camera then panned out to show the host wearing a giant cardboard cutout of a car with the logo for Carpool Karaoke emblazoned on it. Cut to perhaps the most legendary CP bit yet: Neil Diamond, Keith Urban, Tim McGraw, 2 Chainz and Jennifer Lopez to name a few, jumped into the fake car to do a rendition of Diamond's "Sweet Caroline." Blue Ivy even jumped in to participate, and then the universe imploded due to too much awesomeness. 
The rest of Corden's evening played out like a series of funny one-liners in between the incredibly inspiring proclamations of love between Adele and Beyoncé. A few of our favorites included "She plays Jane the Virgin on TV, I played James the Virgin until my 31st birthday!" 
Corden also managed to get in a dig about the absence of Kanye West while coming to the stage to announce the next presenter. "Our next presenter is known by some as Yeezus," the host teased. "By North and Saint as Daddy. By Kim as husband. And by you and me and the planet as Kan...oh, sorry, I always get these two mixed up. It's the president of the Recording Academy, Neil Portnow!"
Ba doom boom. 
In between the funny moments, Corden also managed to do what few hosts can: Keep it all about the show. He showed up when he needed to and moved the show along; he provided a bit of comedic relief and he understood that everyone was there to see Beyoncé—and he respected that. What more can you ask of a Grammys host than to respect our love for Beyoncé?