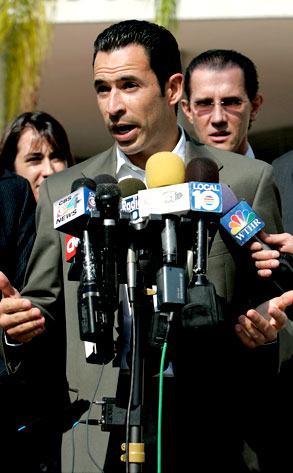 AP Photo/David Adame
Another day in court, but still no victory lap, for Hélio Castroneves.
A Miami court today denied the two-time Indy 500 and onetime Dancing With the Stars champ's request to dismiss some of the charges he faces in connection with his upcoming trial for federal tax-evasion.
The Brazilian lead foot, who has long maintained his innocence, appeared for a pretrial hearing in Florida today and requested the dismissal of several of the six charges he faces, citing a statute of limitations.
The reality alum, his sister, Katiucia Castroneves, and his attorney, Alan R. Miller, are all facing charges for allegedly hiding more than $5.5 million in income between 1999 and 2004 to avoid paying taxes.
A subsequent pretrial hearing has been set for Monday, when the U.S. District Judge Donald Graham will hear a separate dismissal motion from the star.
The trial itself is scheduled to begin March 2. If Castroneves is convicted, he faces a maximum five-year prison sentence on each of the six counts, for a possible 30 years behind bars.