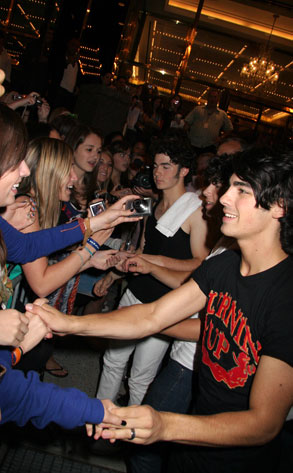 Jose Perez/INFphoto.com
My friends and I think we're obsessed with the Jonas Brothers. We're not sure just how obsessed we are, but it feels like we're bordering on obsession. So can you tell us how to determine if we're obsessed?
—Gina, Las Vegas
Put it this way: Do you lie to friends and family about how many hours you spend thinking about the sparkle on Kevin's promise ring? How it must glisten in the moonlight while the four winds caress his cheeks and blow innocent, playful kisses through his hair?
Do you think of nothing but their upcoming 3-D movie or their Grammy performance, not caring if you bankrupt yourself trying to get tickets?
That's obsession, clear and simple. And I get that from someone who would know...