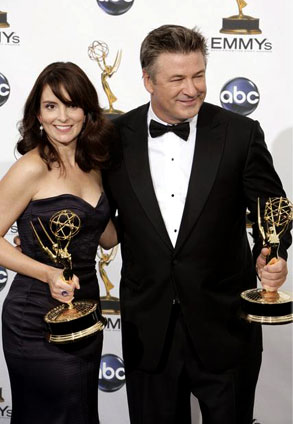 ABC/ADAM LARKEY
In the interest of inclusivity, Emmy organizers have announced plans to expand the top 10 categories, upping the nominees from five to six.
Which means, come next September, one more actor will have the honor to lose out to Tina Fey, Alec Baldwin and their competition-decimating 30 Rock crew.
There will now be a half-dozen contenders for Outstanding Comedy and Drama Series, as well as lead and supporting actors and actresses in both comedy and drama series. In years past, the only time races would have six nominees would be in the event of ties during the nomination process.
The move, announced today by the Academy of Television Arts & Sciences, is designed to inject some much needed new blood into the rerun-prone annual proceedings, but sadly comes too late to help the snubbed ghosts of TV past. (We're looking at you, Gilmore Girls, Buffy and The Wire.)