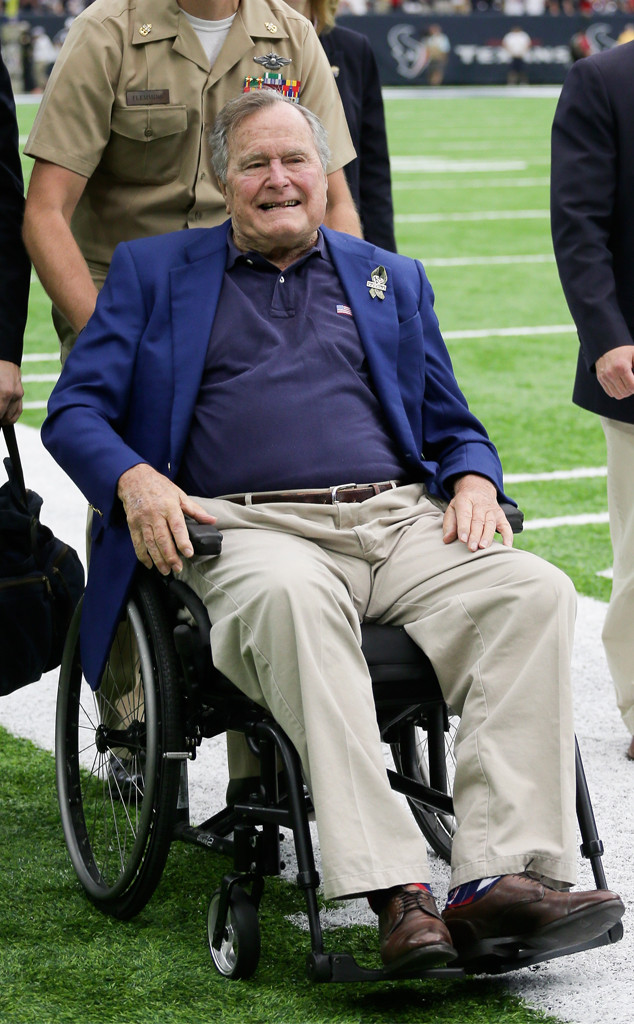 Bob Levey/Getty Images
UPDATE: A spokesman for former President George W. Bush confirmed that he was discharged from the hospital Jan. 30 after being treated for pneumonia.
"He deeply appreciates everyone's prayers and good wishes," rep Jim McGrath said. Former first lady Barbara Bush went home from the hospital a week ago after being admitted with a cough and fatigue.
____________________________
UPDATE: Former President George H.W. Bush's spokesman, Jim McGrath, released the following statement via Twitter midday Wednesday: "Shortly after our previous report on President Bush's condition, he was admitted to the ICU at Houston Methodist Hospital to address and acute respiratory problem stemming from pneumonia. Doctors performed a procedure to protect and clear his airway that required sedation. President Bush is stable and resting comfortably in the ICU, where he will remain for observation. Additionally, [Barbara Bush] was admitted to the Houston Methodist Hospital this morning as a precaution after experiencing fatigue and coughing. We will provide additional updates as events warrant."
______________________________________
Former President George H.W. Bush has been hospitalized as a precaution after experiencing "shortness of breath," his office confirmed to NBC News Wednesday. Additionally, Today reported Bush, 92, is responding well to treatment and doctors are pleased with his progress. Overnight, chief of staff Jean Becker told NBC News he is in "stable condition" and "doing fine."
The Houston Chronical initially quoted Becker as saying the 41st President of the United States was expected to return home from Houston Methodist Hospital in a few days. "He's there," Becker told the newspaper Wednesday. "He's fine and he's doing really well." The politician's office later confirmed that he is "being monitored as a precaution and is resting comfortably."