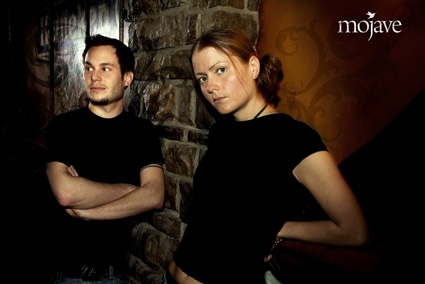 George Smeltzer
Paul and LJ of Mojave have one album under their belt and with growing influence in earth-friendly practices in an evolving industry, they're gaining a whole lot of momentum for their second.
Mojave is an acoustic duo formed in 2007 from rock roots that now combines folk and classical elements, including the violin in their live shows. Their first album, Stories, was released digitally in order to save on wasteful packaging and tours that have taken them across the border and back have been offset through Tree Canada.
On top of encouraging sustainable lifestyles, the band also donates a portion of their profits to 1% for the Planet and will support a Dogwood Initiative campaign, "NoTankers.ca", during their next show February 10th in Vancouver at The Roxy for "Indie Night in Canada".
A part of the NoTankers.ca campaign involves adding a small decal to a Loonie and spending so that the information gets circulated. "We try to do a lot for the environment," commented Paul. "We try to promote that aspect without being 'preach-y' as much as we can."  He recently wrote a piece for Granville Magazine about alternative method for music distribution, including digital-only releases right down to veggie soy inks with no coating on business cards.
LJ explained their involvement in environmental causes is because they genuinely care, "I think the more you find out about things the more you realize that it just sucks to sit back and do nothing. I think whether it's your job or your hobby, there are ways to be more ethical in your choices."
Mojave gets their message across through organic campaigns but more importantly through the way they distribute their music, which is available for listening on MySpace, as well as download from iTunes, and CDBaby. You can also find electronic updates on their blog and on Twitter.
In the next few weeks they'll be heading to Toronto to record their sophomore album, Crow's Funeral, with producer Dan Achen (City and Colour, Feist). The release will be distributed by their own label Black Canvas Records—and they fully intend on offsetting every mile they travel.
GUEST BLOGGER: Rebecca Bollwitt has been blogging about Vancouver since 2004 on Miss604.com, co-hosting two podcasts since 2005 and in 2008 she co-founded sixty4media, a social media consulting firm.