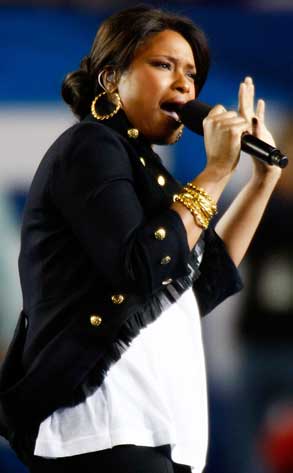 Win McNamee/Getty Images
It may not have technically occurred at the Super Bowl, but Jennifer Hudson's rendition of the "Star Spangled Banner" still won her plenty of points.
Hudson's performance of the national anthem is now available for download from iTunes, with all proceeds going to the Hudson-King Foundation, set up in honor of the Oscar winner's mother, brother and nephew, who were killed in October.
Although Hudson—like "America the Beautiful" singer Faith Hill did before her—lip-synched to a prerecorded track on Sunday, it was an acclaimed first step as she edges back into the spotlight.
The Dreamgirls star follows up her Super Bowl appearance Sunday with a live (honest) performance at the 51st Annual Grammy Awards and then another one Feb. 12 at the 40th Annual NAACP Image Awards. Hudson is also on the cusp of releasing her new video for the song "If This Isn't Love."
And then it's on to an even bigger next step.