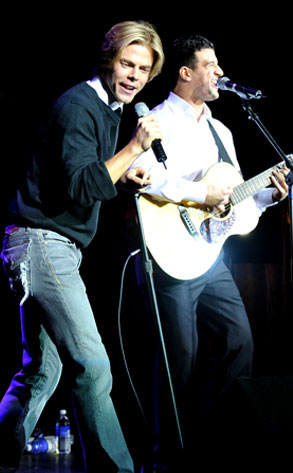 John M. Heller/Getty Images
Mark Ballas and Derek Hough have proven they can dominate on the dance floor. Time will tell if they have the same hold on the charts.
The Dancing With the Stars champs-turned-Ballas Hough Band frontmen are set to release their debut album, BHB, on March 10.
The prime-time hoofers will debut "Do It For You," the first single off the long-in-the-works album, this Thursday, when the group (rounded out by bandmates Emily Grace, Sam Marder and Harry Sullivan) will perform the tune on Good Morning America.
The band is getting an assist from a fellow reality show juggernaut—the single is cowritten by none other new American Idol judge and proven pop hitmaker Kara DioGuardi.
Not that the boys are expecting to be immune to criticism over their new career path...