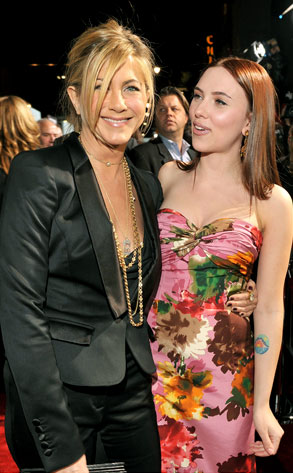 Lester Cohen/Getty Images
Except for both their male companions being lame no-shows, Jennifer Aniston and Scarlett Johansson had very different problems at the H'wood premiere of He's Just Not That Into You.
Married lady ScarJo's Oscar de la Renta dress is flowery fab, and her generous rack on display would make breasty babe Salma Hayek proud. But what the ef is up with the totally flat, blah brown hair? All her recent red-carpet wear's been matronly or mismatched. Where's the whole va-va-va-voom shtick you were so good at, Scar? If this is what marrying Ryan Reynolds has done to ya, we prefer you as a single gal on the prowl, fer sure.
And while Jenny looked fresh-faced and perfectly ponytailed, we so called that she'd be donning black—again—before we even laid eyes on her. Are ya scared of seeking even more attention by adding color to your closet? Black, red or nothing, hon, you're still gonna get it. Plus, noir is so totally Angie's thing. Unless ya think something of hers should be stolen, too?