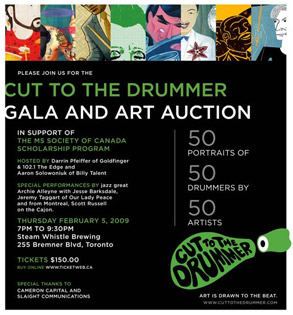 Aaron Solowoniuk must be some kind of superman. The drummer manages to balance his responsibilities with one of the biggest rock acts in the country (Billy Talent) with a family and still finds time to raise money and awareness for Multiple Sclerosis, the degenerative disease that he was diagnosed with a decade ago.
The latest project he is involved with is Cut to the Drummer, a gala fundraiser that will feature 50 portraits of drummers, including John Bonham (Led Zeppelin), Tre Cool (Green Day), Travis Barker (Blink-182) and more. E! Online spoke to Solowoniuk about the event and about his organization, FUMS.
E! What is FUMS and what does it stand for?
Aaron Solowoniuk: FUMS basically means F--k You Multiple Sclerosis. It's something that I said to myself over and over again when I first got diagnosed with this disease. I'd gone through years of medication and when I finally accepted what was going on with my health and with my body, I decided that I wanted to do a charity concert for MS. It's turned into much more than just a concert. Right now, it's basically helping to fund a scholarship program we stared two years ago. I knew I wanted to donate the money to the MS Society but I didn't want to just hand it over…we came up with this idea of helping families affected with MS with a scholarship program.