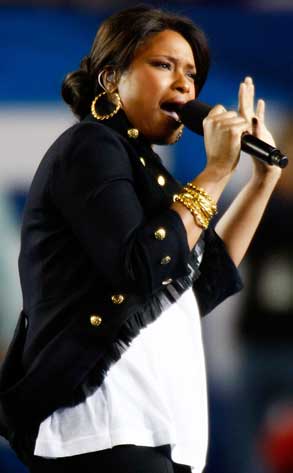 Win McNamee/Getty Images
If Jennifer Hudson knocked your socks off at the Super Bowl last night, you may want to keep them off.
The Dreamgirls diva is continuing her recovery tour with a performance at the 40th Annual NAACP Image Awards next Feb. 12 in Los Angeles.
The starlet officially returned to work last week following the murders of her mother, brother and nephew last October. Her appearance in Tampa marked her first performance since the tragic incident, but fans can expect to see much more of her this month.
Before the Image Awards—for which her eponymous album received six nominations and her role in The Secret Life of Bees garnered two—she'll play the 2009 MusiCares Person of the Year Gala on Friday and stop by the Grammy Awards on Sunday (she's up for R&B Album of the Year and three others). Her new music video, "If This Isn't Love," is set to debut the week of Feb. 9.
Halle Berry and Tyler Perry host the event, airing on Fox, and Seal is also set to perform.