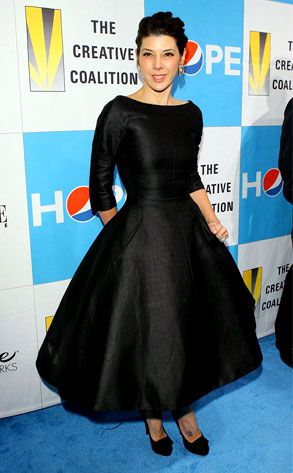 Michael Tran/Getty Images
Before Slumdog Millionaire picked up another win last night at the Directors Guild of America Awards for Danny Boyle, there was the star-studded red carpet.
I was there trying something new. I was twittering. It's almost like liveblogging, but instead of happening in my column at Eonline, my tweets (that's what they call Twitter posts) are over at my Twitter profile page.
But knowing not all of y'all are Twitter folks, I've put all my DGA tweets together for you right here. And in the spirit of keeping it authentic as possible, I have not corrected misspellings, wrong grammar and other such blips (including when they were cut off at the 140-character max). I apologize to our copyeditors, but I'm told that's the charm of Twitter. It may not be perfect, but as one reader commented, "I feel like I was there with you…bomb sniffing dogs, Amy Adams, Marisa, Josh Brolin, and I got to experience it all from home!"
It all started at about 5:30pm Hollywood time...