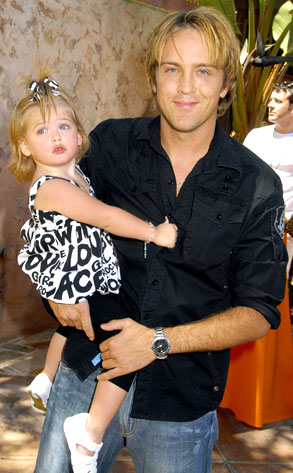 Barry King/Getty Images
Who wants to bet someone cried?
Judge Larry Seidlin, the Broward County, Fla., Circuit Court jurist who weepily presided over the battle pitting Howard K. Stern and Larry Birkhead against Anna Nicole Smith's mother, Virgie Arthur, for custody of Smith's remains, met Smith's 2-year-old daughter for the first time Friday when she and her dad surprised him during a visit to Larry King Live.
"She's a beautiful little girl and I'm glad everything is working out," Seidlin told E! News about being approached by Birkhead on the CNN talk show's set. "Larry is a great father."
Turns out Birkhead, who appeared about 20 minutes into Seidlin's interview, was King's "surprise guest" on the episode taped today, which is scheduled to air Monday night, a week before the second anniversary of Smith's death on Feb. 8.
"On walks Larry with Dannylynn running next to him," Seidlin said. "When they said 'surprise guest,' I thought maybe it was [former Yankees manager] Joe Torre or someone. I was not expecting to see her!"
Seidlin never met the child during the six-day trial nearly two years ago, which concluded with him granting Dannielynn's court-appointed guardian custody of Smith's body—a decision that paved the way for her to be buried in the Bahamas alongside her son Daniel, who had died barely five months before.
"I want you to understand that I reviewed absolutely everything," an emotional Seidlin said upon handing down his ruling. "I have struggled with this. I have shed tears.
"Justice is not perfect, it's what is reasonable."