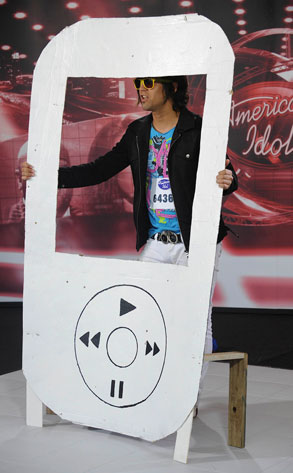 Michael Becker/Fox
Two things Simon Cowell hates: Overuse of the word please and humans dressed as iPods.
Both were pet peeves he encountered as American Idol touched down in San Juan, Puerto Rico, on tonight's episode, which also featured collapsing window screens, a wannabe nudist and the return of season-seven auditioner Alexis Cohen ("Take it, take it, take it!" she screamed into the camera last year, brandishing both middle fingers.)
Well, Cohen still couldn't sing—she was even worse than last year, the judges determined—and, sure enough, out came her twin birds and the potty mouth when Cowell told her to take a hike.
The aspiring nudist, however, Simon rather liked.