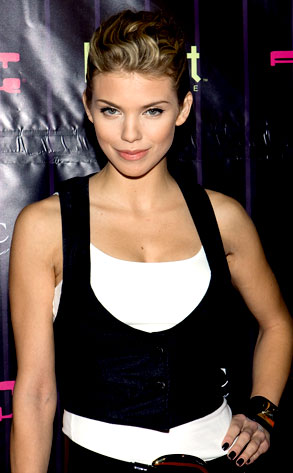 Chelsea Lauren/Getty Images
AnnaLynne McCord, slinking around the Apple Lounge with her equally smokin' sisters, Angel and Rachel. The 90210 hottie partied next to her costar Josh Henderson, who had a group of giggling girls fawning over him, such the life. ALM preferred to avoid the star-effers and holed up in a private, outside cabana with the sibs instead, keeping the evening low-key and nonboozy. Anna's sisters have pretty much been her date to everything H'wood she's ever gone to—are the men that bad in L.A., honey? Don't answer that. Just screw Drew Barrymore—Charlie's Angels 3 should be a go with these totally bangin' broads as the stars. Spending some time with nonrelated loved ones was...
Jamie-Lynn Sigler and Jerry Ferrara, having a romantic night out at Il Sole on a Tuesday night. The newly paired lovebirds held court in a corner table, "giggling, holding hands across the table and eating off each other's plates," says a source who was not rolling her eyes, can't tell why. The HBO poster couple sat next to...