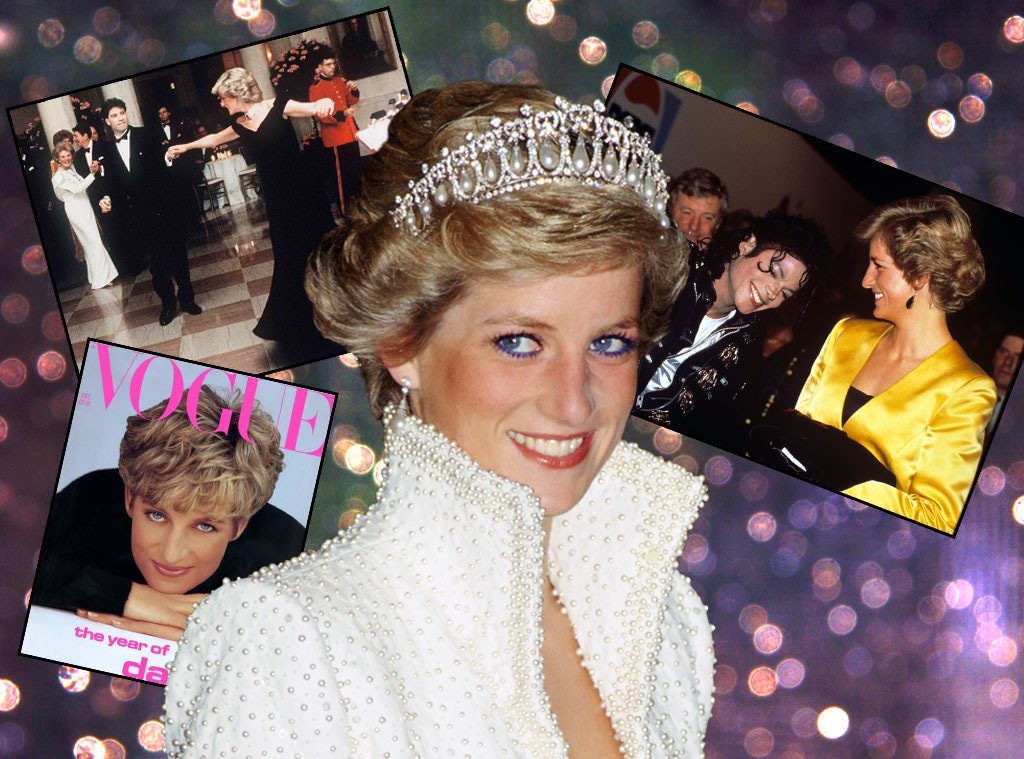 Getty Images
Princess Diana had all the makings of an American pop culture obsession. 
With movie star looks and style to match, it was no surprise that when it came time for her to say "I do" to the United Kingdom's heir apparent, 21.7 million people in England alone tuned in to watch her launch her happily ever after. Initially, however, Diana could not get her head around the attraction. 
"I was very daunted because as far as I was concerned I was a fat, chubby, 20-year-old, 21-year-old, and I couldn't understand the level of interest," told journalist Martin Bashir in 1995."Here was a situation which hadn't ever happened before in history, in the sense that the media were everywhere, and here was a fairy story that everybody wanted to work."
That level of instant fame would cling to her until her heartbreaking death a mere 16 years later. As proof of the public's adoration for the Princess of Wales, her televised funeral outranked her wedding in viewership by more than 6 million people just in Britain.   
Across the pond, Americans were equally heartbroken by the sudden loss as Diana had become a significant public figure in the United States despite the absence of a monarchy.
Instead, she was a celebrity, adored by Hollywood's most A-list stars and admired for her red carpet-worthy fashion. Her love life was the stuff of best-selling romantic fiction while her commitment to polarizing social issues like the impending AIDS crisis, treatment for mental illness and drug abuse made her a figurative angel on Earth. 
"I don't go by a rule book, because I lead from the heart, not the head, and albeit that's got me into trouble in my work, I understand that," she said to Bashir. "But someone's got to go out there and love people and show it."
Georges De Keerle/Getty Images
That love was not unrequited. To start, America fell for her looks. Women wanted her blond cropped cut, her elegant gowns, her hats, her jewels. As The Telegraph's Iain Hollingshead once wrote, Diana "had an ability to sell clothes just by looking at them." 
As there is power in becoming a designer's muse, Diana learned the process early on by staying loyal to particular labels like Catherine Walker, whose career eventually became synonymous with the late princess. Once she cemented herself as a fashionista, there were traces of Diana on any woman strutting down the street. "She really influenced the catwalk—not the other way around," auctioneer Kerry Taylor once told Marie Claire UK. 
Still, she didn't need a fashion show to sit at society's front row—she was Princess Diana after all. With her exclusive access to America's most prominent figures, from the president to Michael Jackson, all the royal had to do was be at any place at any time and a captivating photo op was bound to unfold.
A prime example of this was her visit to President Ronald Reagan's White House in 1985. Coordinated by First Lady Nancy Reagan, the royal famously took a spin around the dance floor with John Travolta. Photos from that 15 minute twirl will live on in the annals of history and the experience is forever cemented in the actor's memory. 
"I'll never forget it," Travolta told a Dutch television station in 2007. "I'm so honored that I was able to experience it, and I know for a fact that it was a highlight of being in the United States; it was her favorite moment. So I feel I made her life better; she made my life better; and I'm very sorry that she's not here."
Anwar Hussein/WireImage.com
Unlike stiffer royals, Diana seemed at home in America—on the dance floor with Danny Zuko, chatting with fans along red carpets, gracing multiple covers of Vogue and even opening a home for young people living with AIDS in the nation's capital. 
Her broken marriage to Prince Charles helped humanize her beyond the opaque royal veneer and, as the dawn of 1980s TV drama approached, the couple's romantic rollercoaster and subsequent admitted infidelity became the perfect material for a bewitching unscripted public saga. 
"In the TV age it is irresistible to see such snippets of royal family life as a long-playing soap opera," Vanity Fair's Tina Brown wrote at the time, likening the pair's private turmoil to the plot of Dynasty. 
AP Photo/Patrick Bar-Nice Matin
No soap opera would be complete without a few more suitors. Whether it was her deeply secretive love affair with heart surgeon Hasnat Khan or glamorous courtship with playboy Dodi Fayed, post-divorce Diana—heartbroken, hopelessly romantic and free from the restraints of the palace—was the gas that fueled America's mounting and unquenchable curiosity.
"We shared something in common with the press," Michael Jackson once said of the royal. "I don't think they hounded anyone more than her and myself."
Tragically, Diana's finale came unexpectedly early when she was infamously killed in a car crash in Paris in 1997. She was just 36 years old. 
Press Association via AP Images
Still, America's love affair with the people's princess never dissolved. Instead, it was reignited in her legacy—her sons, Prince William and Prince Harry. To impossibly fill her void, the public has clung to her children's personal lives, seeking remnants of Diana in their interviews, their charity work and their romances.
Five years after her wedding to Prince William, Duchess of Cambridge Kate Middleton still inspires comparisons to her mother-in-law with virtually every move, from the fascinators she wears to the poses she strikes. 
When Prince Harry publicly confirmed this fall that he is dating Suits actress Meghan Markle, he did so with a plea to the press and public to respect her privacy. It seems America—and the rest of the world—is yearning for a new princess to fill Diana's vacancy and finish the fairytale she never got to have for herself.
Still, that may be an impossible task. As Diana's beloved friend Sir Elton John famously sang about her, "Your candle burned out long before your legend ever did."