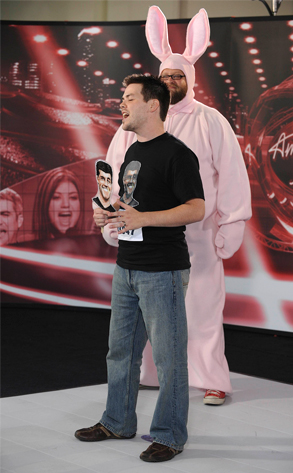 Michael Becker / Fox
Wednesday TV's Big Winner, Besides the Resurgent House of Osmond: The Salt Lake City-set American Idol (27 million, per Nielsen estimates) hit season highs in viewers and the 18-49 demo.
Not All Lie Detectors Are Created Equal: Last year, Moment of Truth held onto the majority of its super-sized Idol lead-in. Last night, Tim Roth's Lie to Me (12.1 million) didn't.
They Are What They Are: Lie to Me and Lost (11.1 million) both were about even with last week. Lie to Me won the hour in viewers; Lost ruled in the demo. At 8 p.m., Knight Rider (6.2 milion) was even with its season average.
Jay Leno Preview? CBS tried its Katie Couric news show at 8 p.m.—and drew the night's lowest 18-49 rating of any non-rerun on the big four networks.
Unwelcome Back: In the demo at 10 p.m., an old CSI: NY (as well as a new Law & Order) outdrew the back-from-hiatus Life on Mars (6.5 million).