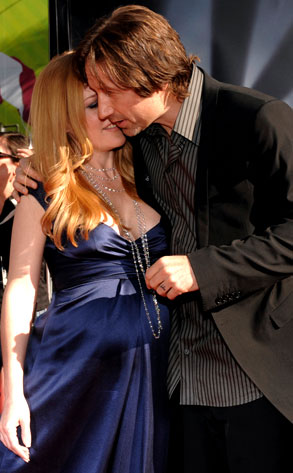 AP Photo/Chris Pizzello
Dear Ted:
So let me get this straight: Kevin Spacey would go for a Toothy Tile or Milk kind of script, but Toothy Tile himself would pass on ever starring in a film where the issue of homosexuality would be heavily addressed? Just wondering.
—B
Dear Homo Hunting:
You bet. Toothy is so far back in his closet now he's not doing anything that would bring attention to him like that. This was surely not always the case with Toothy, however.
Dear Ted:
All this stuff about David Duchovny reminds me of Michael Douglas some years back. Didn't his previous marriage break up because of his so-called sexual addiction? Is this real? Or are Hollywood stars just looking for a reason not to accept responsibility for their actions? I'm not being a hall monitor here, but if you do something that's wrong, admit it! That's life! We still hear about Rob Lowe and Hugh Grant, and maybe it helped their careers? I'm addicted to your column.
—Judy
Dear SAA:
Personally, I don't know anyone who doesn't love bumpin' uglies, so I see it as more of a copout, too. But I'm not in their shoes, so I can't really say. At least not yet. This marriage stuff is hard work. Any tips, readers?
Dear Ted:
I noticed St. Angie and Mr. Pitt made a point of being interviewed by Seacrest's coworker. Both seemed to be uncomfortable, but Brad looked like he was chewing glass. Later, I read he is annoyed by the whole "publicity machine" and that he didn't sign on for it. Would this have anything to do with the fact that there has been so much spin on his relationship with Angie that he can't give a legit response to anything anymore?
—BigMama