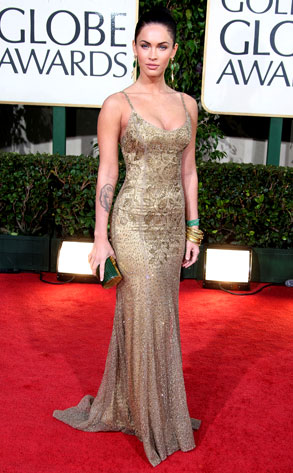 Frazer Harrison/Getty Images
Now that Angelina Jolie's the new equally skeletal Mother Teresa as far as do-gooding celebs go, could her sex-queen crown be kaput? Megan Fox, the only good reason for a Transformers sequel, is allegedly being sought after to fill A.J.'s boots in another Tomb Raider flick, and we love this possible switcheroo.
The brunette babe's basically a sexier, sultrier mini-Jolie anyway, from the lips to the heavily tattooed bod. (Brian Austin Green, however, is no Brad Pitt. Like you needed us to tell you that.)
We put in word with Fox's reps to see if she'd take on the role if offered. They're mum—as they should be. Don't want to blow a friggin' cash cow like this one! But all fanboys want with Lara Croft is T&A anyway, and with Ms. Fox, ya get it for one-sixth the price! Makes sense to us.
Could this role reversal be the first step in Angie's downward spiral from sex goddess to domestic goddess?