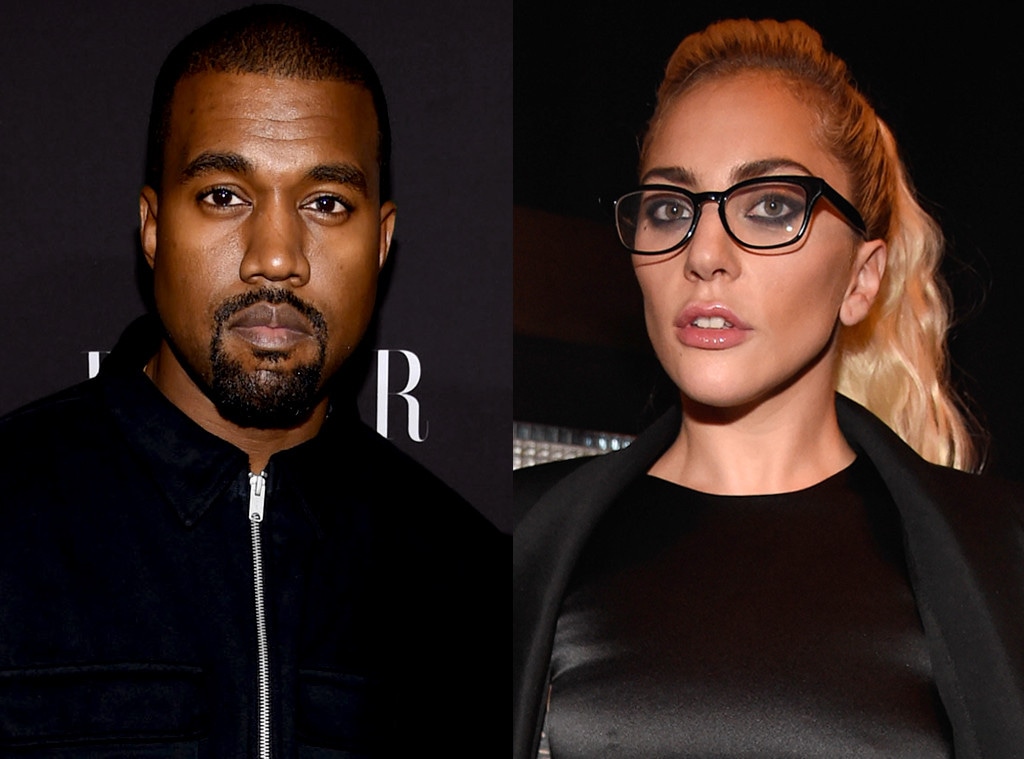 Dimitrios Kambouris/Getty Images; Kevin Mazur/WireImage
Lady Gaga appears to be letting bygones be bygones when it comes to her history with Kanye West, who remains hospitalized for exhaustion after canceling his tour. Could this be the start of a renewed friendship?
The 30-year-old pop star, who almost toured with the 39-year-old rapper seven years ago, tweeted messages of support for him Wednesday. Two days prior, Kanye had admitted himself to a hospital after stirring controversy over onstage rants at his concerts and then abruptly cancelling the remainder of his Saint Pablo Tour.
"While I don't agree with everything he does I hope the public shows compassion and ♥ for @kanyewest and each other," Lady Gaga tweeted. "One love. One Race."
". @kanyewest i support & love u brother," she said. "I see in you bravery & courage to stop this tour & take care of YOU. You are a GREAT artist." 
A source told E! News following Kanye's hospitalization that he had admitted himself into the medical center because he is "exhausted." However, fans continue to speculate about Kanye's condition.
"It's not funny to joke about anyone's possible or not possible mental illness, this is a sensitive time for many," Lady Gaga tweeted. "Let's be kind & loving."
While Lady Gaga and Kanye share things in common—they're eclectic artists with huge fan bases who even both have a rare condition of sound-related synesthesia—the pop star's history with the rapper is...well, complicated.
In early 2009, they were all about collaborating. They announced a co-headlining Fame Kills: Starring Kanye West and Lady Gaga tour that was to begin that November and even posed for racy portraits for Dave LaChapelle to be used for her album artwork.
But then came the VMAs.
In what has become the most commonly quoted Kanye moment, Kanye famously crashed Taylor Swift's acceptance speech for "Best Female Video" at the 2009 MTV Video Music Awards to declare that Beyoncé deserved the award in her place. 
Three weeks later, promoter Live Nation announced Kanye and Lady Gaga's joint tour was canceled. She called the decision mutual and her choreographer said "creative differences" were to blame.
Speaking onstage at one of his concerts this past April, Kanye said "Lady Gaga canceled the tour the next day" after the VMAs. He also said the show incident marked "the beginning of the end of my life."
Lady Gaga has not confirmed whether or not the VMAs incident was a deciding factor on the tour cancellation.
And unlike many celebs, she was not hard on Kanye publicly for his behavior toward Swift, saying at the time that while she didn't approve of it, he was a friend and she would stand by him "because everyone makes mistakes and it is important to forgive one another." She also called the rapper a "good person," according to Rolling Stone. 
Kanye had spoken both positively and negatively about Lady Gaga in an interview with Zane Lowe on BBC's Radio 1 in 2013, in which he questioned her partnership with Polaroid.
"Look at Gaga, she's the creative director of Polaroid," he said. "I like some of the Gaga songs—what the f--k does she know about cameras?"
Lady Gaga has not insulted Kanye publicly. She did, however, taking part in an SNL sketch that mocked him and wife Kim Kardashian in 2013.