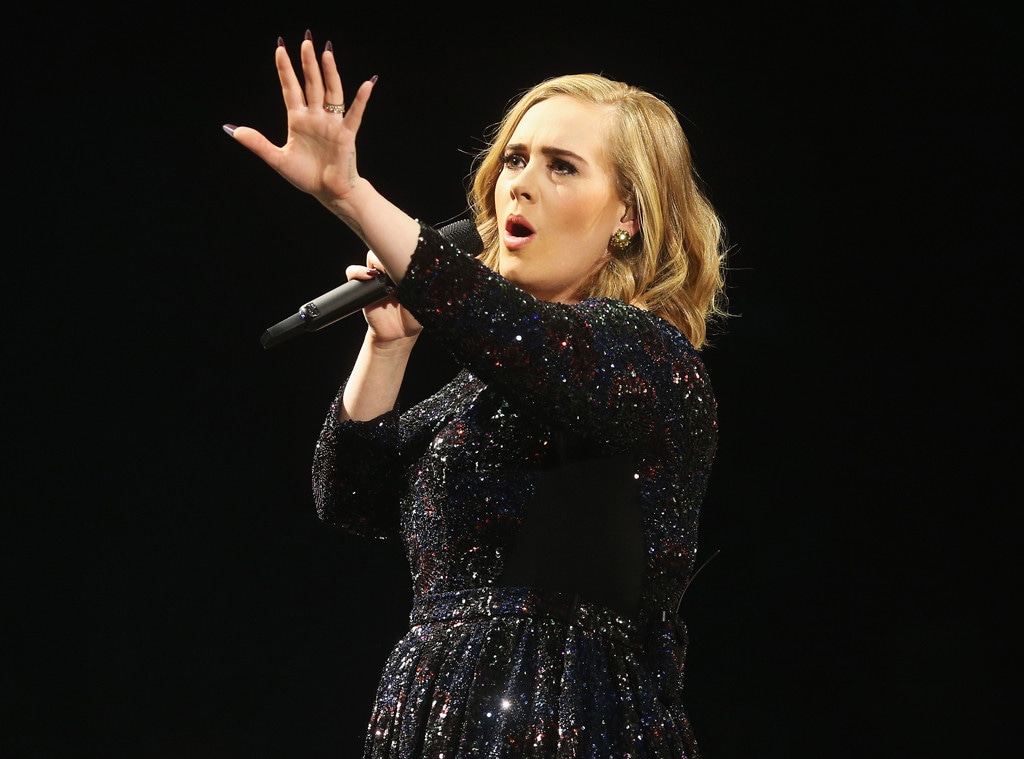 Joern Pollex/Getty Images for September Management
Adele has babies on the brain.
Just four months ago, though, the British songbird was singing a different tune. "I don't think I can have another child," Adele told fans at St. Paul's Xcel Energy Center. "I mean, I can. But I don't think I want two." But when she performed at Nashville's Bridgestone Arena in October, the musician said, "My son is about to turn 4 very, very soon. I'm starting to get very emotional about it because I feel like once they turn 4, they're not really your actual baby anymore. So, my womb is starting to ache a little bit. It's like, 'Baby, baby, baby. Need a baby, need a baby.'
"I'm not pregnant," Adele added. "I won't get pregnant until the end of the tour."
Adele wrapped the U.S. leg of her world tour Monday at the Talking Stick Resort Arena in Phoenix. At the end of the show, the 28-year-old singer proudly said, "Give it up for my band! Give it up for me! I did it! I'll see you on the other side. In a couple of years, I'll be back, and you won't be able to get rid of me." Moments later, Adele joked she was "off to have a baby." She also did a champagne toast with her band, telling fans, "I'm not going to have any because I've got my glorious white wine, and I can't drink it because it wreaks havoc with my acid reflux."
After the show, she shared an Instagram picture of a homemade banner from her son Angelo that read, "Mummy you did it!!!" to welcome her home. "I just finished my 107 shows in 10 months. 100 percent live every night. I bloody smashed it, even if I do say so myself," she said. "You lot have been incredible, every night you've been so beautiful, loving and engaged."
"My band and my crew you made the whole thing turn," said Adele, who resumes her tour in Australia and New Zealand in March 2017. "And my beautiful family made it easy for me to do."
During her concert in St. Paul, Adele also revealed she'll be taking another break from music when the tour ends. "My kid is starting school, you see—hence why I'm so busy trying to get all my shows out of the way," she told fans. "I don't think I'll be away for as long." Adele took a self-imposed four-year break from music in 2011, following the release of her hugely successful album 21. She welcomed her son the following year with her longtime partner, Simon Konecki.
Konecki has a daughter from a previous marriage, which Adele told Vanity Fair is her "get-out-of-jail-free card." The reason, she revealed, is that she's "too scared" to get pregnant again. "I had really bad postpartum depression after I had my son," Adele said, "and it frightened me."
Adele admitted she "didn't talk to anyone about it," despite Konecki's insistence. "My boyfriend said I should talk to other women who were pregnant, and I said, 'F--k that, I ain't hanging around with a f—kin' bunch of mothers.' Then, without realizing it, I was gravitating towards pregnant women and other women with children, because I found they're a bit more patient. You'll be talking to someone, but you're not really listening, because you're so f--kin' tired."
Clearly, Konecki was onto something. "My friends who didn't have kids would get annoyed with me, whereas I knew I could just sit there and chat absolute mush with my friends who had children, and we wouldn't judge each other. One day I said to a friend, 'I f--kin' hate this,' and she just burst into tears and said, 'I f--kin' hate this, too.' And it was done," she said. "It lifted."
"My knowledge of postpartum...is that you don't want to be with your child; you're worried you might hurt your child; you're worried you weren't doing a good job. But I was obsessed with my child," Adele said. "I felt very inadequate; I felt like I'd made the worst decision of my life."
"It can come in many different forms," she added. "Eventually I just said, I'm going to give myself an afternoon a week, just to do whatever the f--k I want without my baby. A friend of mine said, 'Really? Don't you feel bad?' I said, I do, but not as bad as I'd feel if I didn't do it. Four of my friends felt the same way I did, and everyone was too embarrassed to talk about it; they thought everyone would think they were a bad mom, and it's not the case. It makes you a better mom if you give yourself a better time."
Even so, Adele said she struggles with mom guilt every so often. "I'm enjoying touring, but at times I feel guilty because I'm doing this massive tour, and even though my son is with me all the time, on certain nights I can't put him to bed. I never feel guilty when I'm not working," she said. "You're constantly trying to make up for stuff when you're a mom. I don't mind, because of the love I feel for him...I don't care if I don't ever get to do anything for myself again."
For Adele, family comes first—no exceptions. "All of my relationships are more important to me than any tour I'll ever do. If my relationship with Simon or my relationship with Angelo started to flounder a bit now, I would pull out of my tour," the "Water Under the Bridge" singer said. "My life is more important to me than anything I'm doing because how the fuck am I supposed to write a record if I don't have a life? If I don't have a real life, then it's game over anyway."