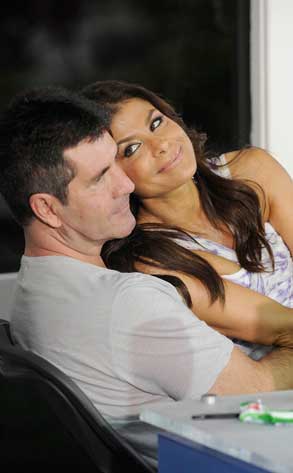 Michael Becker / FOX
"Loving You" isn't an easy tune to sing—or listen to, when not sung well. But even when butchered, it sure brought the usually contentious American Idol crew together Tuesday night.
Naomi Sykes' ultimately unfortunate audition kicked off a cozy scene when her pal took a seat on her fave judge Randy Jackson's lap—and inspired everyone else at the table to double up, as well. Paula Abdul perched on Simon Cowell, so Ryan Seacrest stepped in to keep Kara DioGuardi warm.
But even Naomi's friend, Samantha, looked mortified by her attempt at "Loving You," the best part of which was the impromptu sing-along to the "do-do-do-do-DO-OO" part.
But the Jacksonville, Fla., auditions worked out for some aspiring popsters, of course—16 of 'em altogether. Just not for Naomi. Or for George Ramirez, the physics student who hopes to have marble floors in 10 years' time. Or for Darin Darnell, who just couldn't say goodbye to yesterday. Or for Kaneswa Finnie, whose mom thinks she's great…