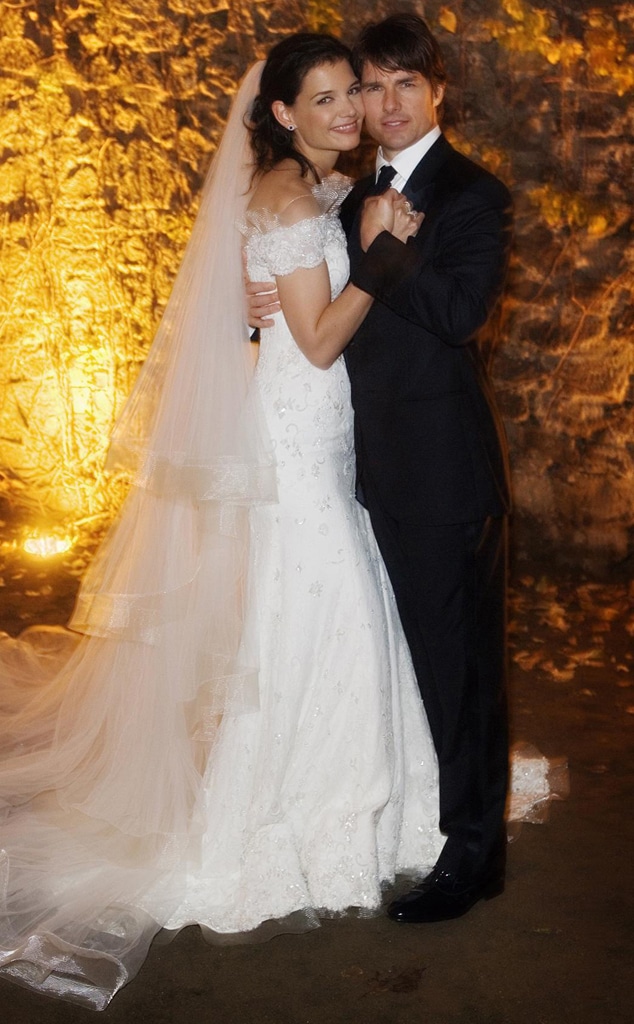 SplashNews.com
"I think every little girl dreams about [her wedding]," Katie Holmes said in an interview with Seventeen in 2004. "I used to think I was going to marry Tom Cruise."
"So let it be written, so let it be done."
As fate would have it, her childhood wishes came true less than a year later when, newly split from fiancé Chris Klein, she accepted the Oscar winner's marriage proposal, subsequently gave birth to the couple's only child, Suri, and went on to marry her girlhood crush in one of the most significant wedding ceremonies in Hollywood history.
As pop culture history goes, the marriage ended in a divorce settlement five and a half years later with primary legal custody of Suri granted to her mother.
Rogers & Cowan/Robert Evans, Sandro Vannini
Nevertheless, for nostalgia's sake, today marks a different milestone for those vows—their 10-year anniversary. On this day in 2006, the actors became husband and wife inside Bracciano, Italy's 15th-century Odescalchi Castle, a celebration that reportedly cost them upwards of $3 million. 
With a price tag that grand, Tom and Katie's wedding cemented itself in celebrity bridal history. From the cream of the crop Hollywood guest list and double wedding gowns to a dinner serenade by Andrea Bocelli, it seems no expense was spared on the night Holmes became Mrs. Tom Cruise. 
"If you get invited to that wedding, you go," Brooke Shields, a guest at the wedding, told Jenny McCarthy in an interview on her SiriusXM show in January.  
Before the wedding could begin, the bride needed a gown—or two. Holmes sported two dresses during the special night, both designed by wedding attendee Giorgio Armani. For the ceremony, the Ray Donovan actress donned an off-the-shoulder silk and lace design adorned with Swarovski crystals. The crystals alone took 350 hours to place, as People reported at the time.
Then, she switched into a one-shoulder off-white silk organza number embellished with more Swarovski crystals.
Salvatore Laporta/Getty Images
Katie wasn't the only one to dazzle the crowd in Armani—her groom and the wedding party all wore the label for the special night. 
"Katie wanted a simple, elegant dress," Armani told People at the time. "I wanted to make it modern but at the same time complement the sweetness and energy she conveys."
As fans would learn years later, Holmes accessorized with "something old" gifted to her by Shields. After being publicly criticized by Cruise for taking prescription medication for her postpartum depression, Shields said the actor came to her home to apologize. Soon after, she got a call from Holmes to invite her to their Italian nuptials. 
"She said, 'It just wouldn't feel right without you there,'" Shields told McCarthy during the interview in January. "And I said 'OK, I'll bring the something old, as long as it's not me!' And she said, 'would you?'"
London Entertainment/Splash
The former face of Calvin Klein ultimately delivered the bride-to-be an antique enamel compact. 
The supermodel was just one name on the sprawling VIP list of famous attendees, which included Will Smith and Jada Pinkett Smith, fellow Scientologists John Travolta and Kelly Preston, David Beckham and Victoria Beckham, Jenny McCarthy and then-partner Jim Carrey, Marc Anthony and Jennifer Lopez and former Scientologist Leah Remini. 
Once inside the castle's armory doors, guests were greeted by flag bearers sporting traditional Renaissance attire. With Cruise's older children, Connor and Isabella, Holmes' maid of honor, sister Nancy Blaylock, and Cruise's best man, Scientology leader David Miscavige, present, the couple took part in Scientology's traditional "double ring" ceremony and sealed it with a kiss. 
Salvatore Laporta/Getty Images
What followed was a seemingly endless celebration that carried into different halls of the castle, as People described at the time. After a round of toasts, the bride danced with her father, Martin Holmes, to Louis Armstrong's "What a Wonderful World" and joined Cruise for their first dance to Fleetwood Mac's "Songbird."
"It didn't take much time before I realized this Tom guy was a special guy—that he loved Katie, that he cared for her and supported her," Martin said during a toast at their rehearsal dinner at the Villa Aurelia. "Tonight, I am extremely proud and happy to raise my glass to Katie and Tom."
One five-tier wedding cake and fireworks display later, the guests danced the night away with music producer Mark Ronson spinning tunes and Lopez jumping in to perform one of her songs live when it came on. 
A nostalgic moment arrived when Cruise sang The Righteous Brothers' "You've Lost That Lovin' Feeling" to his bride—a nod to his iconic performance in Top Gun. 
Of course, the song now seems like a moment of foreboding as, five and a half years after they wrapped the late-night festivities and boarded a jet to the Maldives for their honeymoon, Holmes filed for divorce. The two have not remarried and Holmes continues to live with her daughter.
While their high-profile relationship was a subject of controversy and speculation since Cruise first jumped on Oprah Winfrey's couch, the actress recently revealed she wouldn't do it differently. 
"I really enjoy my life," she told Ocean Drive a year ago. "I don't really regret anything that I've done. I've learned from everything, and everything sort of leads you to the next place. I just keep going."