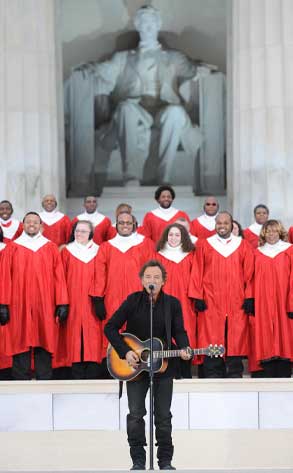 MARK RALSTON/AFP/Getty Images
The Boss is taking his Dream show on the road.
Bruce Springsteen and the E Street Band have announced a slew of dates in support of their latest album, Working on a Dream, hitting stores today.
The 48-date worldwide jaunt will launch April 1 in San Jose, Calif., and criss-cross North America before heading to Europe on May 30.
But there's a notable gap in band's schedule between a June 10 show in Bergen, Norway, and a July 2 gig in Munich, leading to speculation that the E Streeters might be up for a headlining slot at the Bonnaroo festival in Manchester, Tenn. June 11-14. That lineup will be unveiled in February.
Before hitting that thunder road again, the Grammy winners plan will warm up this Sunday as the featured entertainment at the Super Bowl XLIII halftime show in Tampa.
Here's the complete itinerary: