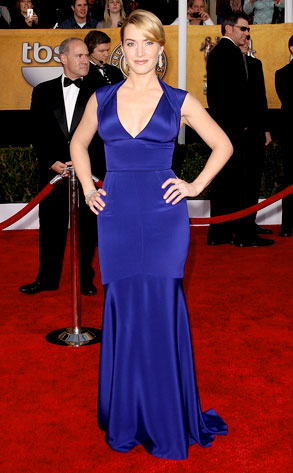 Jason Merritt/Getty Images
Finally, after much tacky prodding, we got Kate Winslet to fess up on the sexist disrobing policies of Hollywood.
Natch, Winslet continued her award-winning tour last night at the SAG show, picking up Best Supporting Actress, and we couldn't be more thrilled for the über-talented babe. You all must check out The Reader, in which K.W. fiercely plays a Nazi character—often nude, something she claimed made her "insane" during filming.
"It was just tough," fessed Kate. "I have to disappear into this person and figure out who she is. And I didn't like her all the time. It was hard coming to a place where I understood her. I think it was the most challenging part I've ever been asked to play."
And just as she so deftly did in Titanic, Kate bears all in Reader, also like so many girl nominees this year. Jeez, what's with this screwed-up, female-only nudie system in T-town? Precisely. So we friggin' asked Kate why American guys don't do the same?