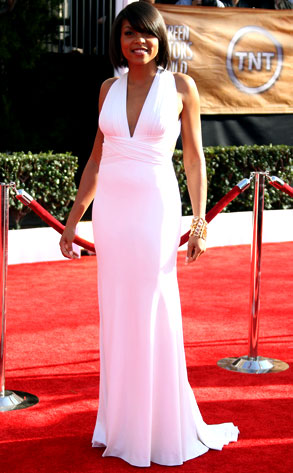 Frazer Harrison/Getty Images
It's 2:15 p.m. and the big question is Brangelina: Are they coming to the SAG Awards tonight?
Well, they are! I'm sure they'll be coming toward the bitter end.
Katie Holmes is presenting, but her rep tells me she's not walking the carpet. Tom? He's in Europe promoting Valkyrie, so...no.
Just talked with the always-chatty Lisa Rinna. She's playing coy about her more-than-likely-upcoming Playboy spread. "Maybe. Could be," she says. "It's a definite possibility."
2:45 p.m.: First celeb on the carpet? Taraji P. Henson. She's in a body-hugging white gown. She's just stopped posing for pics to go meet the fans in bleachers opposite the press.
There's an announcer on this carpet. William Shatner has arrived; so has Doubt's Viola Davis.
"On the carpet right now, many from the hit television series Mad Men," Mr. Announcer says.
Guess the many doesn't include Jon Hamm, 'cause he certainly would have been singled out.
Henson hasn't slept for days. Since she was nominated for an Oscar, to be precise. So what and how did she hear from Mr. Pitt?
"He sent me a text that said, 'Hey, Mama!'" Henson just told me. "He calls me Mama!"
If he wasn't already, Henson's real-life 14-year-old son is definitely the coolest kid at school. "He didn't have to say anything; they all came up to me," Henson says. "He said to me, 'Mom, you're good.'"
3:50 p.m.: Davis didn't sleep much leading up to Oscar nominations. But once she snagged that nomination, it was party time! "I drank a lot of champagne, expensive champagne, and I relaxed in the Jacuzzi with my husband," Davis says.
Now Eva Longoria Parker is causing chaos on the carpet. She's in a beautiful peach gown. Hubby Tony Parker is with her. As always at these awards show, Eva did some handshaking and autographing with the fans in the bleachers.
America Ferrera is here, in fab Vera Wang and Fred Leighton jewels. So give me Ugly Betty scoop. Something no one knows about. "I don't know what people know, but I could tell you that someone becomes really evil, really evil."
Frozen Rivers' Melissa Leo says the accolades—and awards!—were unexpected but certainly nice after all these years of "being in the corner." Yeah, but what is she going to wear to the Oscars? "A bathing suit," Leo deadpans. "Do you think I should wear a bathing suit?"
OK, Penélope Cruz looks ah-mazing!
When I spoke to her the other day just a few hours after she received the Oscar nomination, she still hadn't spoken to Woody Allen. She finally spoke to him yesterday. "We're going to talk again next week," Cruz tells me. "We talk a lot lately because every time we get good news, I call him to thank him."
Will there be more Woody and Penélope films to come? "I trust him 100 percent," P.C. says. "He's a genius."
The carpet is turning into mayhem. Kate Winslet and Mickey Rourke have a brief hello. Marcia Cross tells Nicollette Sheridan she looks "gorgeous."
And here they are—Brad and Angie!
Paula Abdul scuttles away, 'cause it looks like she's on the verge of getting trampled by what seems like dozens of people surrounding Brangelina.
The golden couple do a ton of TV interviews (it's prime Oscar-campaigning time right now!). They shake fans' hands and sign autographs.
They come back to the carpet to do some more still photos. Brad backs away so the screaming-at-the-top-of-their-lungs paparazzi can get full body shots of Ang.
They take off down the carpet. Brad and Angie wave and wave wand wave and smile and smile and smile before disappearing into the Shrine.
More to come...