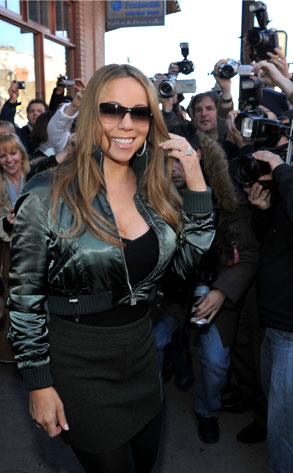 Frazer Harrison/Getty Images
Mariah Carey can finally put Glitter behind her.
Push: Based on the Novel by Sapphire, starring Mariah, Paula Patton (wife of R&B singer Robin Thicke), newcomer Gabourey Sidibe and Mo'nique, took home the top prize for U.S. dramas at the annual Sundance Film Festival last night in Park City, Utah.
Set in 1980s Harlem and focused on the struggles of an abused teenaged girl, Push also received the audience award while Mo'nique was recoginized for her performance as the abusive mother.
In U.S. documentaries, We Live in Public about Internet pioneer Josh Harris won the grand jury prize. The audience award went to The Cove, an exposé on the controversial killing of dolphins in Japan.
A hybrid documentary-improv comedy featuring Juno's Michael Cera took home the Waldo Salt screenwriting award. Paper Heart, about a quest to understand love, was written by Nicholas Jasenovec and Charlyne Yi, best known for her small role as a pothead girlfriend in Knocked Up.
The full list of winners is posted on the Sundance Film Festival's website.