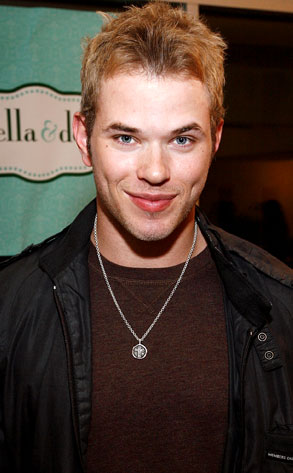 Casey Rodgers/Getty Images
Think Rob Pattinson's the only Twilight dude up to something scandalous? That flick's filled to the fanged brim with sexpots—it'll be way easy to corrupt Dakota Fanning if she joins the cast. Watch out, girl.
Major Twi-hunk sex goss coming, but first: a li'l bitchy bit about a dude connected to that other teen booby obsession, Gossip Girl. GG's Blake Lively's brother Eric also claims to be an actor, and he's starring in the snowboarding flick Deep Winter.
According to on-set sources, the Lively lad was so not a doll during filming—the big-egoed guy behaved like being Blake's bro made him God's gift. Unfortunately for him, success in the sibling department only worked for Ashlee Simpson—EL's nowhere near as famous as his sis, and prolly never will be, either, so no one bent over backwards to please his rude 'tude. On the other hand, Lively's Winter co-star, who just happens to be a major player in the vampire franchise that is Twilight, was a pleasure to work with—especially when pleasuring the ladies. Ya see, Twilight's not the only film starring horny hotties: