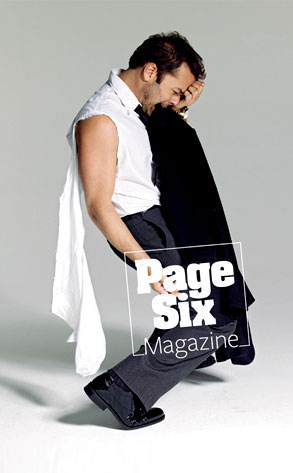 nypost.com
• When Jeremy Piven showed up to a Page Six Magazine photo shoot, he got things started off with, "This isn't my first time on the merry-go-round. You want mediocre? I can give you mediocre." When he was over mediocre, he "let out a guttural moan and "ripped the sleeves off a $350 Giorgio Armani shirt." This prompted the mag to ask, "Is This the Biggest Jerk in Hollywood?"
• Mickey Rourke somehow wound up on The View where, despite Barbara Walters' admiring his body, he chose Elisabeth Hasselbeck to take home with him.
• This is what Audrina looks like rolling around in bed with only a bra, some ugly jeans and...a phone with a cord?! LOL.
• Sienna Miller is taking her married-man-stealing show to New York where someone is allowing her to star in a Broadway play.
• Really, Mischa Barton? You want us to look at these Herbal Essences ads?
Is that Josh Duhamel or Chandler Bing golfing in the Bahamas in our Big Pic gallery?