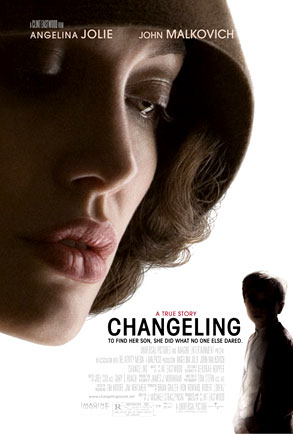 Universal
Yeah, I said it: Angelina Jolie was terrific in Changeling. Her Oscar nomination is not undeserved. But the complete elimination of the dude who got that primo performance outta Jolie, Clint Eastwood, is total bull crap. Particularly in light of the fact that Eastwood's far greater, ethnically rich and compelling film Gran Torino got wiped out from the competition entirely.
Seems particularly hard to swallow with such a diverse, culture-endorsing nomination list that includes major nods to Milk and Slumdog Millionaire. Oh, and Angie so got the classy little boutique film category slot that really should have gone to Kristin Scott Thomas for I've Loved You So Long, so expect a vengeful Thomas to gun for Brad Pitt momentarily. Totally.
But no, Angelina's precious little saint/home wrecker/walking adoption agency/auteur jalopy show must go on—all at the expense of those who help oil it, such as Eastwood. Or is this still about Jolie getting shut out of A Mighty Heart last year? A little. Just like Milk's gazillion noms are partially the Academy's way of trying to make up for the heinous outcome of Prop 8.
Not that I disagree with that calculation.