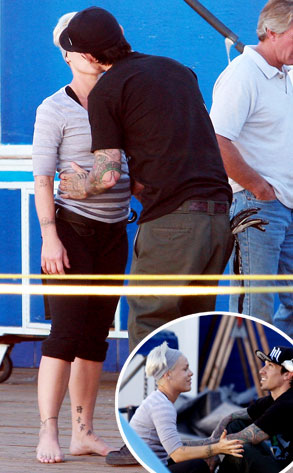 SS/MP/Flynet
After divorcing just last February, Pink and motocrossing Carey Hart have tried their hardest to remain besties. He appeared in her "So What" music video and she generously offered to walk him down the aisle at his next wedding.
Now they've taken their friendship to the next level: roommates! Several reports are saying Carey recently moved back in to Pink's Malibu home (both their reps had no comment). And everyone knows being roommates leads to romantic times in the hot tub (at least in reality world), and that will just lead to remarriage, obviously.
Want more proof? There were pictures of some pre-trapeze kissing time that surfaced yesterday, which all seems pretty reconciliatory to us.
As she wrote in her postdivorce blog: "One never knows the future, but mine and Carey's just might involve beach babies and sunshine one day. Just not right now."
So, maybe now?