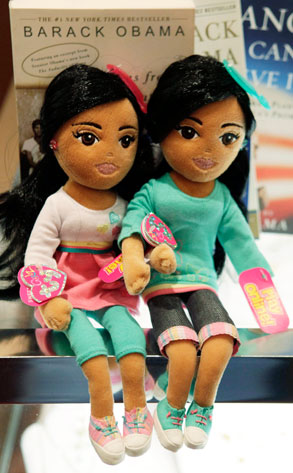 AP Photo/Charles Rex Arbogast
Beanie Babies maker Ty has launched two new dolls for their TyGirlz Collection—"Sweet Sasha" and "Marvelous Malia."
Sound familiar?
It should, given that Sasha, 7, and Malia, 10, are our nation's new first daughters and they are both, well, sweet and marvelous.
"They're such adorable girls. How can we resist?" Ty spokeswoman Tania Lundeen told the Chicago Sun-Times. But Lundeen also insists the $10 dolls are not replicas of the Obama girls.
No word on how President Barack Obama or first lady Michelle Obama feel about their girls getting all dolled-up.
"We certainly hope they like them," Lundeen says.
We do, too, but we're a little concerned with the company the plush Sasha and Malia are keeping. The TyGirlz Collection also includes Bubbly Britney, Lucky Lindsay and Precious Paris.