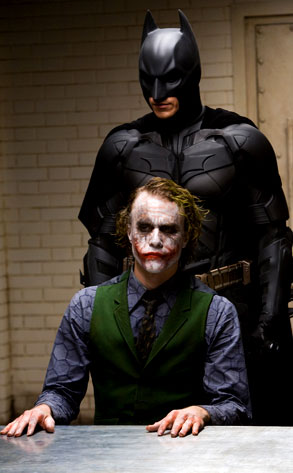 Stephen Vaughan / DC Comics
Brad Pitt did it. Angelina Jolie did it. And on the one-year anniversary of his death, Heath Ledger did it.
Nominations were announced this morning for the 81st Academy Awards.
The Curious Case of Benjamin Button, Frost/Nixon, Milk, The Reader and Slumdog Millionaire are up for Best Picture, a category that's sure to be most noted for what was not nominated: The Dark Knight.

Ledger, who died Jan. 22, 2008 at age 28, did represent for the Batman epic in the Best Supporting Actor race. The competition: Josh Brolin (Milk), Philip Seymour Hoffman (Doubt), Michael Shannon (Revolutionary Road) and, pulling off the kind of populist victory that Dark Knight couldn't, Robert Downey Jr., nominated for the summer comedy Tropic Thunder.

Pitt is a Best Actor nominee for Benjamin Button. His competition should look familiar to award-season followers: The Visitor's Richard Jenkins, Frost/Nixon's Frank Langella, Milk's Sean Penn and The Wrestler's Mickey Rourke.

Jolie's up for Best Actress for The Changeling. Her competition: Anne Hathaway (Rachel Getting Married); Meryl Streep (Doubt); Kate Winslet, nominated in the category, surprisingly, for The Reader, and not Revolutionary Road; and Melissa Leo, the category's biggest surprise, in the game for the indie film, Frozen River.

Benjamin Button led all films with 13 nominations.

Winners are to be announced Feb. 22.