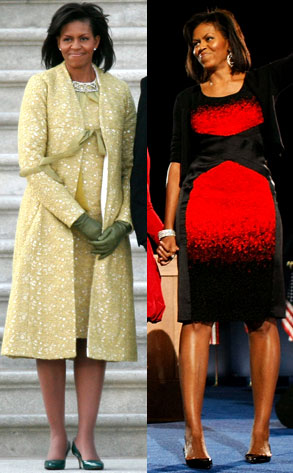 Max Whittaker/Getty Images, Joe Raedle/Getty Images
Dear Ted:
How interesting you feel you can criticize Michelle Obama about her gold/yellow color. Have you looked at your own butt-ugly background color of your blog? She has class where your background just looks like you need to scream for attention. No stones when you live in your own yellow glass house, dude.
—Pearl
Dear Not So Mellow Yellow:
I don't wear my blog around me in daylight, and yellow doesn't make my blog look fat, like it did Mich's waist.
Dear Ted:
You might be interested in this, as Sarah Palin is "fiddling" while the people of rural Alaska starve. In my opinion it is akin to Bush doing nothing while New Orleans was drowning. I love your site and know that you care about people and can get word out about injustices, and yes, Sarah is Alaska's business now and out of your hair, but this I believe should be reported. Sarah does not care about the people of Alaska, but only herself and her greater political gains.
—Alicia, Wasilla
Dear Passing Off Palin:
A sad and sorry reminder that Ms. P's still got some influence somewhere. Thanks.
Dear Ted:
Regarding Anne Hathaway in that dress: I totally agree! Some other gossip bloggers said she looked good. I'm like, on what planet does she look good in that black dress? Anyways, Ted, love your stuff and love your pets even more! Butch is so cute! I'm a cat person, so cats doing cute things, like hanging out in laundry baskets, melts my heart!
—Tammy
Dear Pet-tastic:
Thanks, you must be the gal who uploads all those cat videos on YouTube. Or at least keeps 'em in business.
Dear Ted:
What's really going on between Oprah and her bestie, Gayle King? They seem awfully devoted to each other. Oprah even took Gayle as her date to a very private Obama dinner. Is there more than just plain old friendship happening here?
—Curious Mind Wants to Know