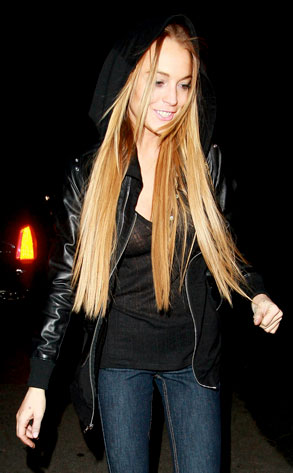 INFdaily.com
Dear Ted:
So I'm guessing Lindsay's very rapid weight loss is due to her new smoking habit. My question is, Does her sister know about the new "fun"? Poor Ali seems so innocent and deluded when it comes to her sister. (Or am I being naive and not only does she know, she wants to be just like her?) I have to admit, I'm a bit tired of the celebathon that is the Inauguration. I'm worried all the red carpet party nonsense is going to take away from the real message, that Obama is not a celebrity, he is the president with a lot of work to do. In addition, if I have to see one more picture of that hypocrite tax-evader jerk Bono pretending he is more saintly than Angelina I'm going to scream. Much love to you, Jon and the furry kids.
—Lucy, Dublin
Dear What She Said:
Don't think Ali's in any downward spiral, but the girl can't be that dumb, either. Dina the erudite monster is her mother, after all. And ditto on the whole last half of your letter, babe! Woof woof, meow meow!
Dear Ted:
I wish you'd had this much to say about Bush ruining this country as you've had to say about Obama before he's even in office. If you want to focus on anything, do a summary of what Bush has screwed up so the Republicans can stop feigning amnesia. I, too, was disappointed in the Rick Warren choice (as a black, bisexual female). But I do believe that Obama will be good for this country in a time where anything is better than what we've had for the last two terms. Stop nitpicking and give Obama a chance—he has a lot to fix, and it will probably take decades.
—Angelique
Dear Change the Past:
You must be new to the blolumn dear, 'cause I've had much to say regarding the past eight years. And I do think O can fix this friggin' country, I just want to see him start doing, not chatting.
Dear Ted:
Jim Carrey's movie is being marketed at Sundance—really? Is that (a) a sign of his slippage (b) another attempt to be a serious actor or (c) a sign of the economic times? P.S.: Thought the movie sounded excellent.
—Jasmolak