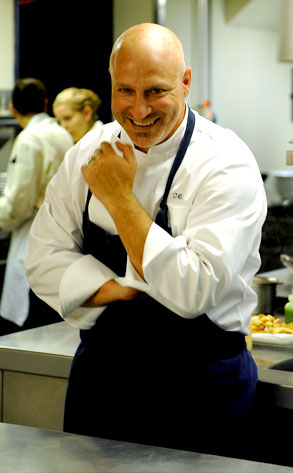 Bravo Photo: Virginia Sherwood
While most celebs were spending the days leading to the inauguration partying around Washington, D.C., Top Chef chieftain Tom Colicchio was busy saving lives.
The reality show judge and all-star restaurateur came the rescue of a fellow foodie Monday night at the Art. Food. Hope benefit. The event, which featured attendees like Bob Woodward, Carl Bernstein and Rachel Maddow, was hosted by cookbook author Joan Nathan (The New American Cooking).
As originally reported on the Internet Food Association blog, Colicchio was cornered by Top Chef fans peeved by last week's elimination, when another famed chef, Alice Waters, frantically began calling for help. Nathan was choking on a piece of chicken.
And that's when Colicchio sprang into action.