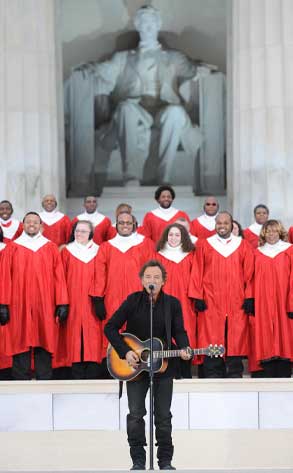 MARK RALSTON/AFP/Getty Images
Holiday TV's Hanging Chad: HBO was still trying to figure out how many people tuned in Sunday's all-star pre-inauguration concert, We Are One. The network made the feed available to all cable homes, subscribers or no.
Holiday TV's Big No-Duh Winner: Perhaps you've heard of a little game called football? The estimated 36.3 million that CBS averaged for Sunday's AFC championship game have.
Guess Who Likes Mondays? Fox's House (14.9 million, per Nielsen estimates) hit a season high in viewers on its new night.
Guess Who Likes Mondays Less? Airing opposite House at 8 p.m., the CW's Gossip Girl (2.2 million) was down 22 percent from last week among women 18-34. Airing after Gossip Girl, One Tree Hill (2.6 million) was down 20 percent in the category.